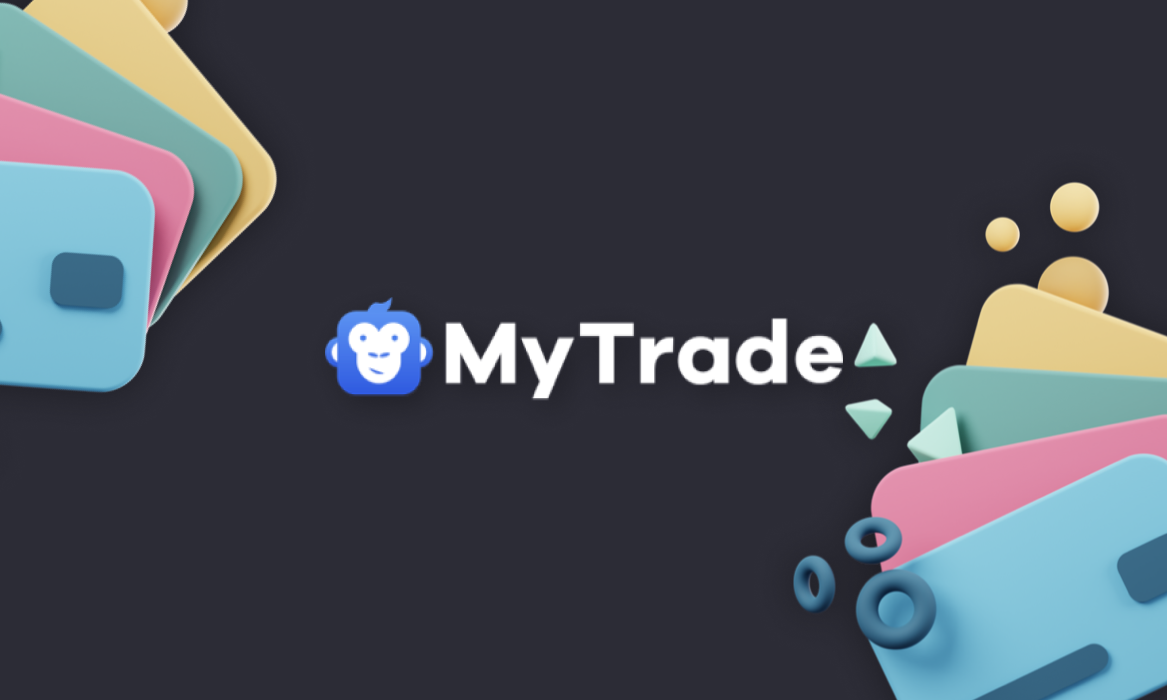 Lead VC
Defi.fund

Market Maker
MyTrade
Controlled Cap
NA
IPAD Approved Metrics
Approved
WHAT IS MYTRADE?
MyTrade is a next generation DEX that looks and feels like a centralized exchange with a wide variety of quality tradable assets. Takers will get the best price, and Makers enjoy 0% trading fees.
DEX with a Centralized Exchange User Experience
Trade directly from your crypto wallet. MyTrade doesn't hold your funds when you trade: you have 100% ownership of your own assets.
Unlike other decentralized exchanges (DEXs) like Uniswap or Sushiswap, MyTrade is not just a swap. It has a professional user interface and features just like top centralized exchanges like Binance. MyTrade users can enjoy price charts, limit orders and trade history.
Integrated Liquidity
MyTrade features both an order book and AMM. MyTrade has coined a new term called Integrated Liquidity, which is the combined total liquidity from both AMM liquidity pool and order book. MyTrade's unique algorithm has precisely integrated these two liquidity sources, and is thus able to provide traders with the best execution price.
Highest Capital Efficiency
MyTrade V2 is the first DEX to introduce Limit Order Mining. This feature incentivizes users to place orders on the order book and will significantly increase professional Market Maker's capital efficiency.
MyTrade V2 Beta launched on Polygon in October 2021, and will be launching on Moonbeam in February 2022. MyTrade V2 with MYT will launch after the conclusion of its IDO.
WHAT MAKES MYTRADE UNIQUE?
MyTrade mainly competes with other Decentralized Exchanges (DEXs). We differentiate ourselves from our competitors with our features and product offering. Please see the below infographic for a breakdown of MyTrade's product advantages and features compared against our competitors.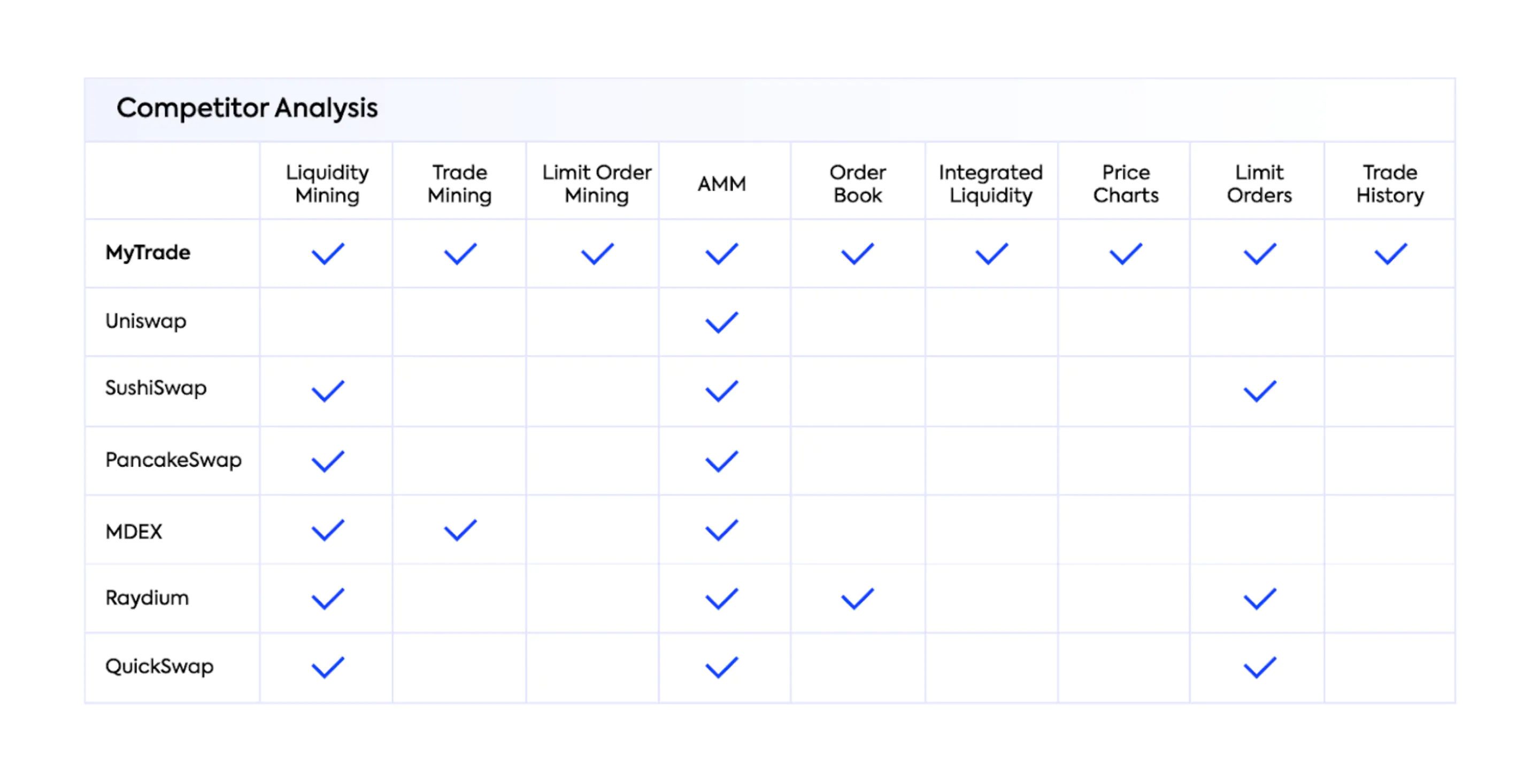 MYTRADE PRODUCT ROADMAP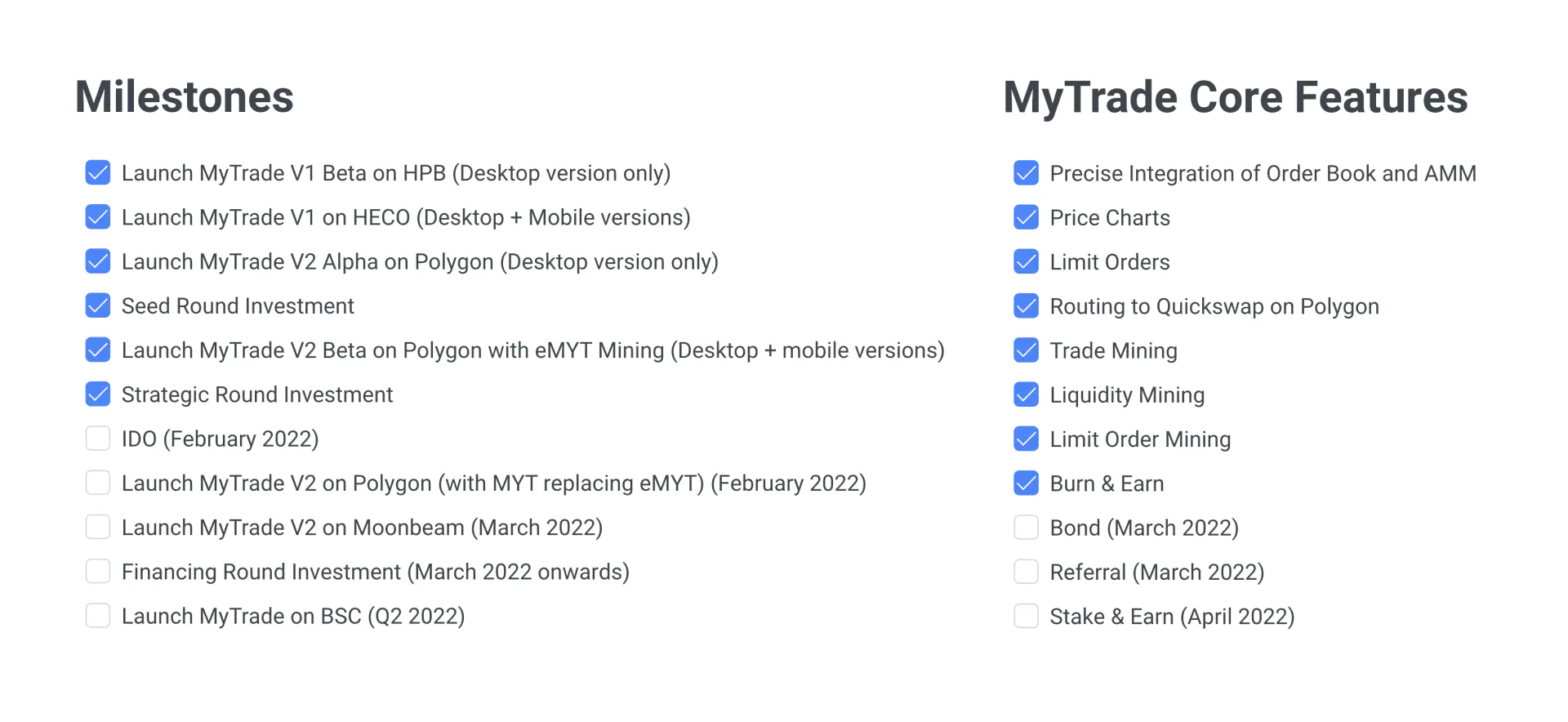 MYTRADE REVENUE STREAMS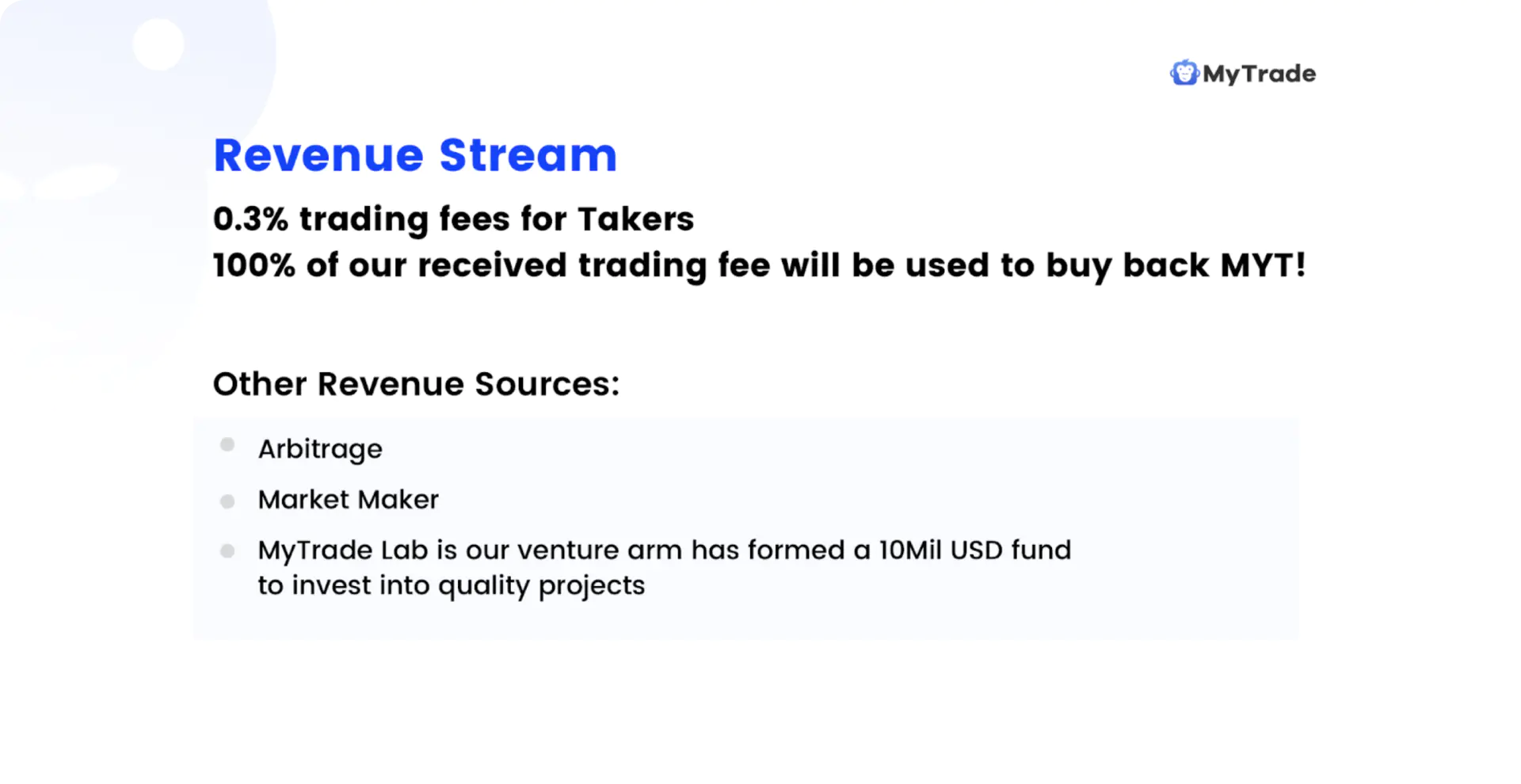 WHAT TECHNOLOGIES ARE USED BY MYTRADE?
Integrated Liquidit
MyTrade has been able to precisely integrate the liquidity from both order book and AMM pool on chain. They have coined a new term, Integrated Liquidity, to describe this. MyTrade's algorithm will always provide Takers with the best execution price.
Integrated liquidity means that users get better trading depth and less slippage, which saves costs for Traders!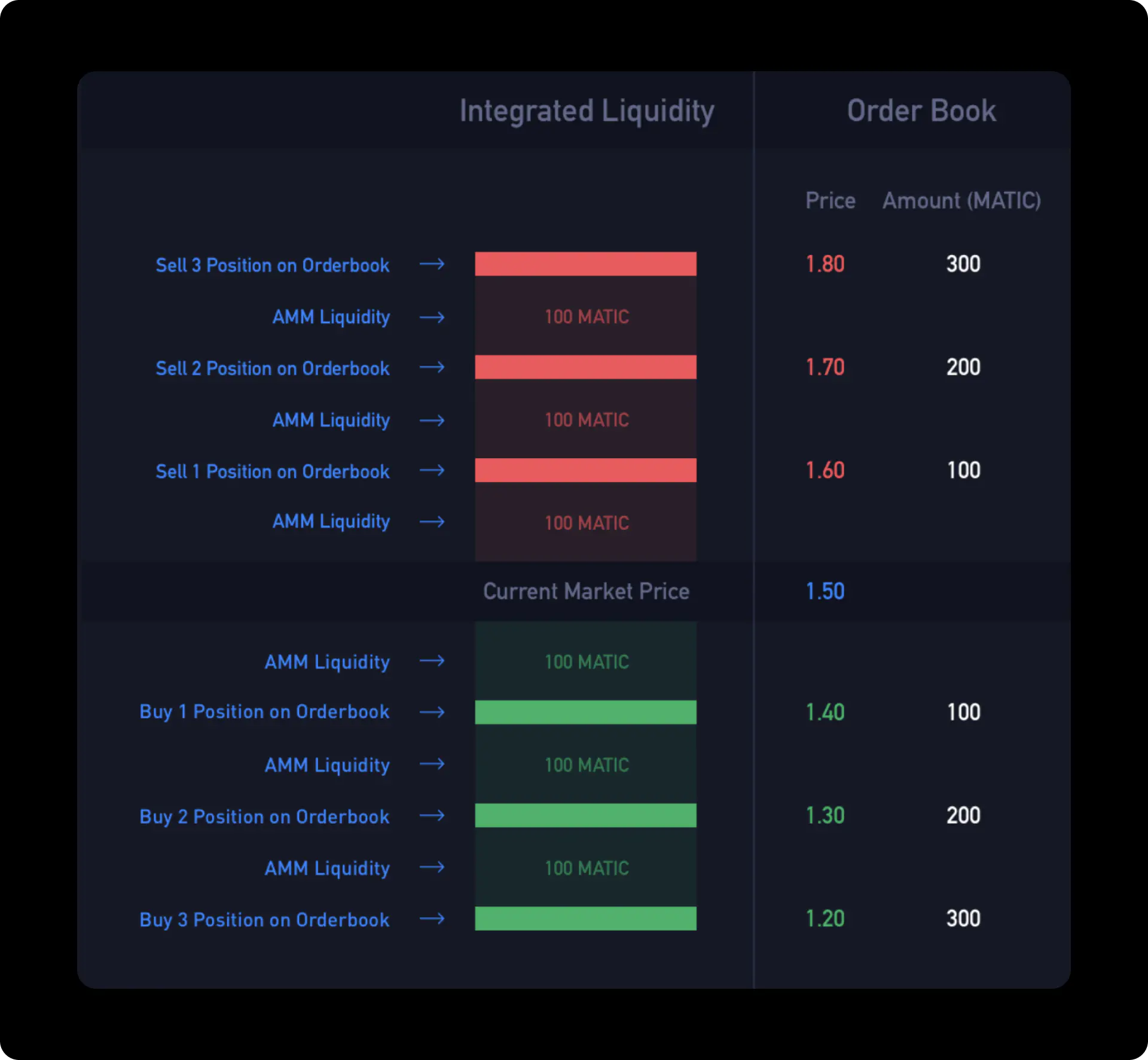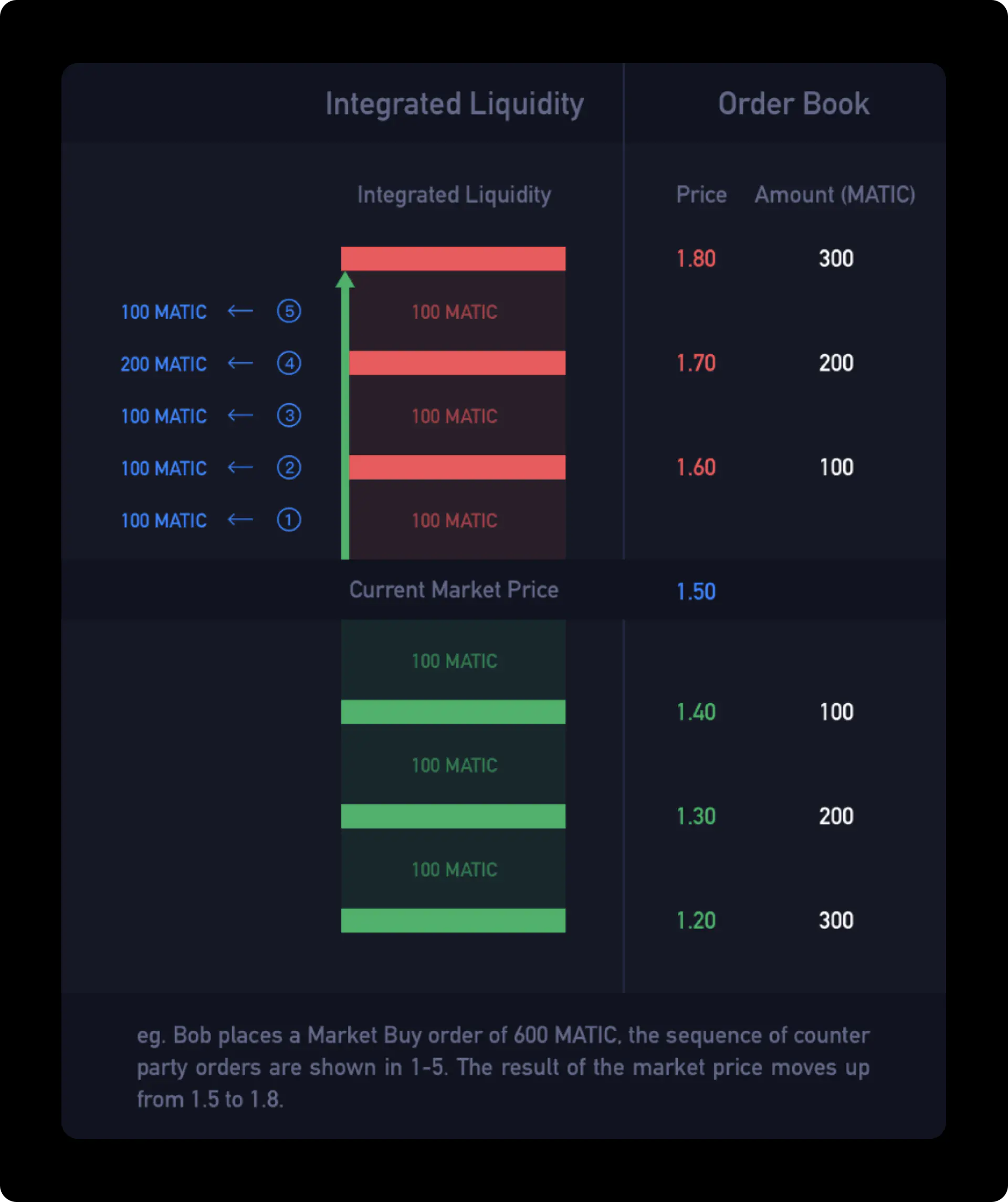 Increasing Market Maker's Capital Efficiency
MyTrade V2 introduces a new concept of Limit Order Mining. This feature is designed to incentive Makers with MYT to build up trading depth around the current market price.
Professional Market Makers are able to use this feature to repeatedly place limit orders near the current market price, after their orders are taken, they can immediately hedge from other AMM pools on the same chain. Continuously repeating this process leads to dramatically increased capital efficiency.
Uniswap V2 LPs (and their clones) provide capital through the price range of 0 to ∞. This is very inefficient as most tokens trade within a much narrower price range. Uniswap V3's innovations aim to solve this low capital efficiency problem by allowing LPs to customize the price range they provide capital to. This results in better capital efficiency for LPs.
MyTrade V2 offers an alternative solution to improve Market Maker's capital efficiency. With Limit Order Mining, Market Makers are only providing capital very close to the current market price. All their capital is being 'utilized' as their orders are constantly being taken on the order book.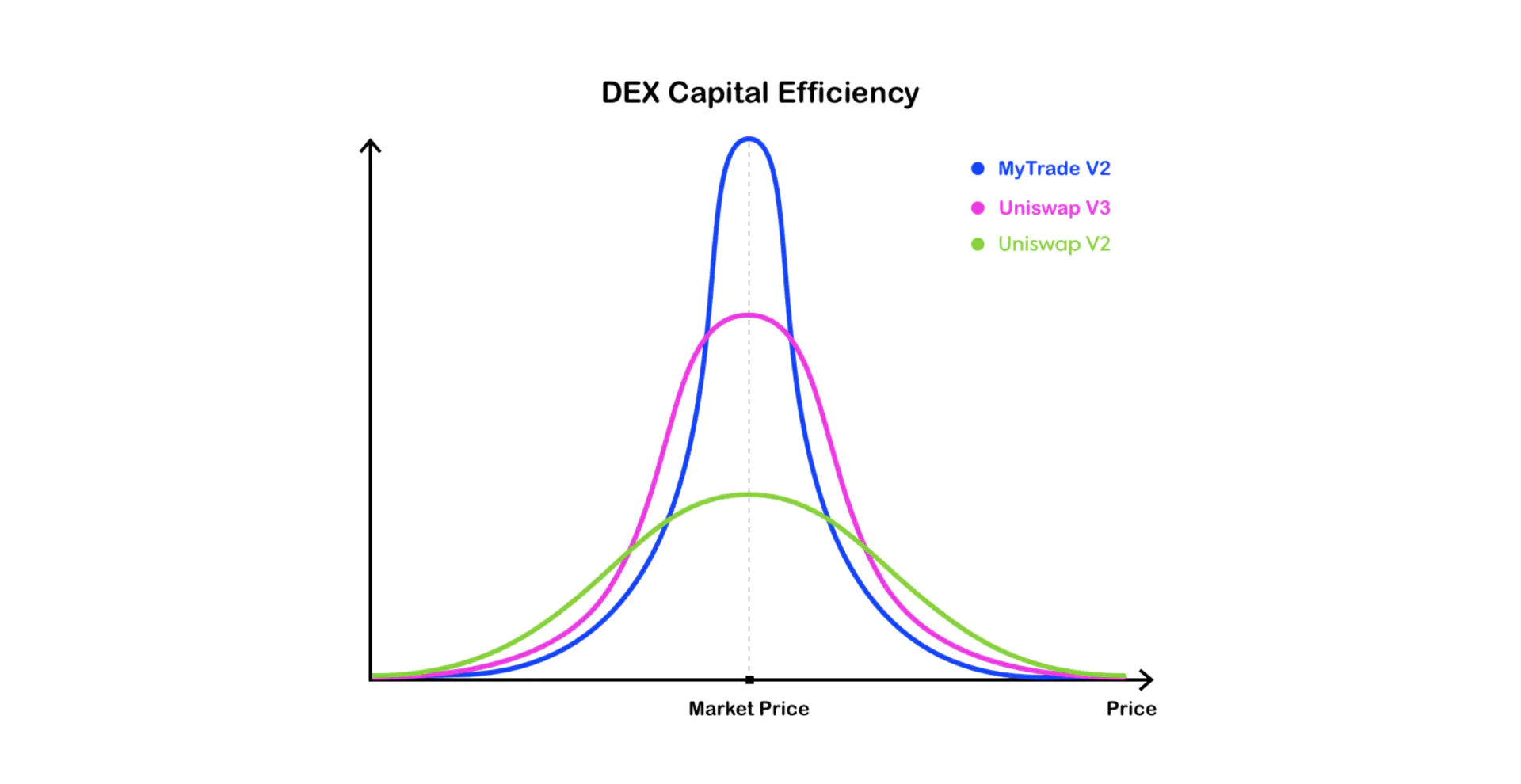 MYTRADE MARKETING STRATEGY
We plan to acquire our first users via listing high quality projects on our DEX. We are now offering 7 different tools that MyTrade listed projects can use for free to attract TVL, Trading volume and users. This is one of our competitive advantages over other DEXs, as we are able to help projects beyond just initial listing.
We recently started MyTrade Venture Network, forming partnerships with Launchpads, CEXs, KOLs, as well as investors to create a funnel to source quality projects for initial listing on MyTrade. We just launched MyTrade Labs with a 10 Million USD fund to start investing into quality projects for the purpose of attracting top projects and initial listings.
We are also implementing a referral system upon launch where we will host referral competitions for trading volume and liquidity providers. Top referrers will earn cash and/or MYT.
We have onboarded many KOLs as our strategic investors to have a skin in the game with us.
MYTRADE TOKEN ECONOMY