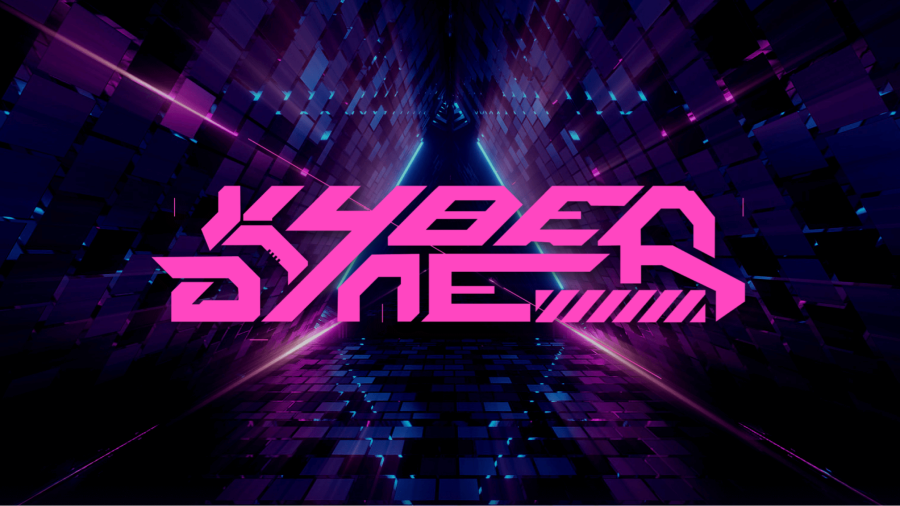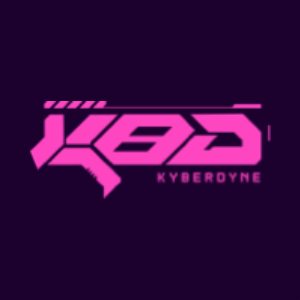 Kyberdyne
Kyberdyne is a cyber-wasteland world. The background is set in the wasteland era after the highly developed cyberpunk social civilization encountered war and virus destruction. The civilization facilities in the world have been destroyed, and the social system and government have long since disappeared. There are still some kinds of creatures survived and gradually formed various forces.
Lead VC
NA
Market Maker
NA
Controlled Cap
NA
IPAD Approved Metrics
Approved
WHAT IS KYBERDYNE?
Kyberdyne is a DBG (Deck-Building Game) with a Rogue-like mechanism built by an AAA game studio. Kyberdyne brings high quality gaming elements to blockchain game players, enabling them to build their own dream team and earn unique rewards.
In Kyberdyne, players can use their own NFT Characters (Heroes) to play PVE and PVP. Players can gain endless fun in PVE, and earn the definite benefits by idling game-play. And players can also have fun in PVP game-play and share the season rewards with other fighters. Kyberdyne is a real F2P, P2E game.
WHAT MAKES KYBERDYNE UNIQUE?
1st, we're bringing high quality gaming elements to blockchain players. The playability and immersion in our game can surpass most of the other blockchain games.
2st, Kyberdyne is not modified from an existing game. It's well designed and built for blockchain from scratch. With the benefit of the metaverse game engine built by the team, the unique cards are dynamically generated in the game.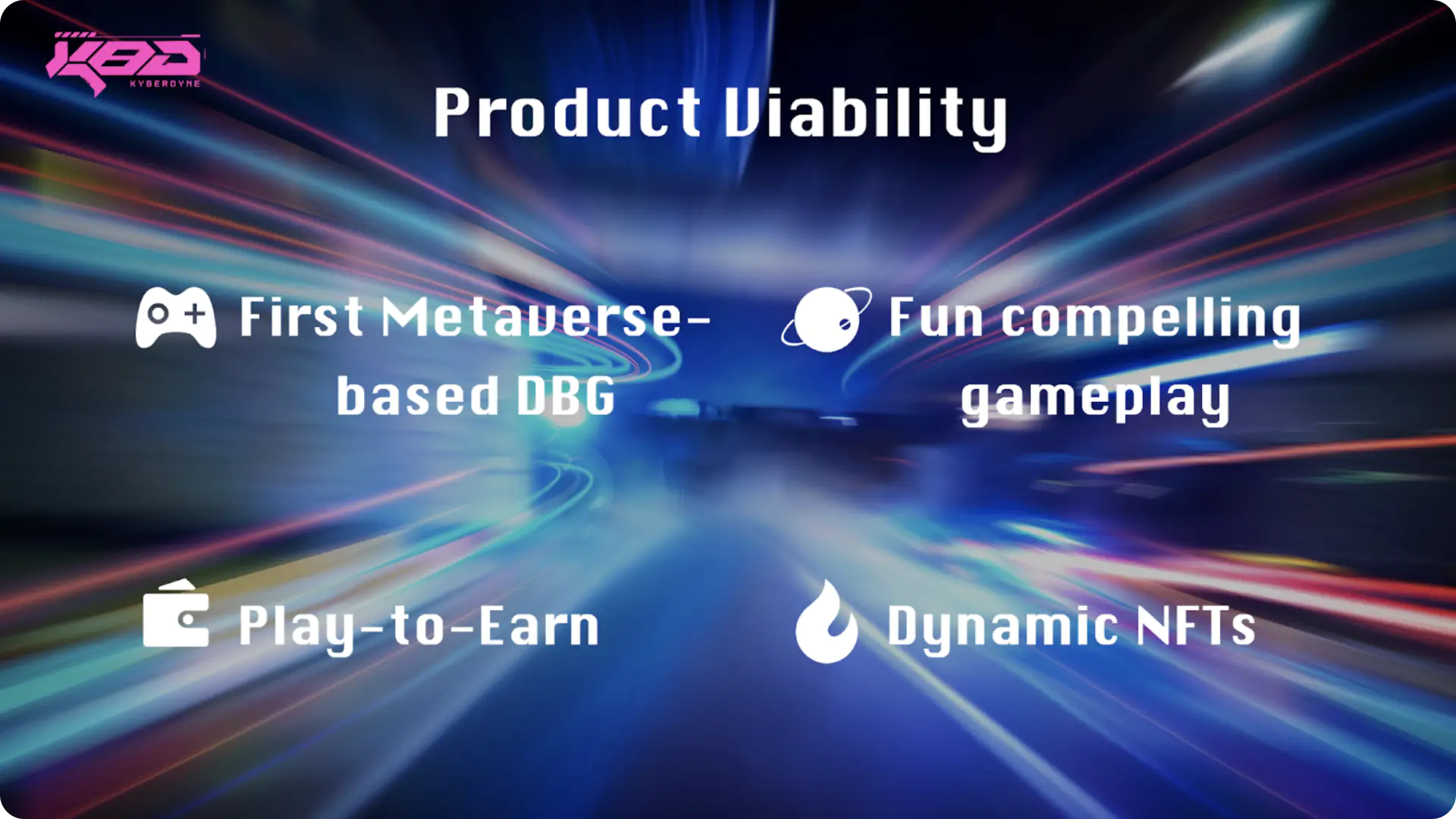 First Metaverse Based DBG
Kyberdyne is created by the world's 1st metaverse game engine which has been proven by the team's former experience. Players can act as their virtual doppelgängers in the game. In Kyberdyne, everything is based on user creation and experience.
Fun Compelling Game Play
Players can design pre-battle and in-battle strategies by collecting and using different card combinations. Kyberdyne is full of variety and novelty, and its Rogue-like mechanism enables every adventure and battle as a new experience.
Play-to-Earn
The sustainable economy within Kyberdyne will enable players to enter for free and earn both NFTs and native, $KBD tokens. NFTs are upgraded from the game cards and $KBD is in-game energy.
Dynamic NFTs
In Kyberdyne, cards are dynamically generated by an AI algorithm, which means each card in Kyberdyne is unique by default. Once the cards reach 3 star level, they can be minted into unique NFTs. The NFTs will also be upgraded according to the experience of your heroes (cards), which will alter card attributes. All the changes to the attributes will be recorded and stored on-chain permanently.
KYBERDYNE PRODUCT ROADMAP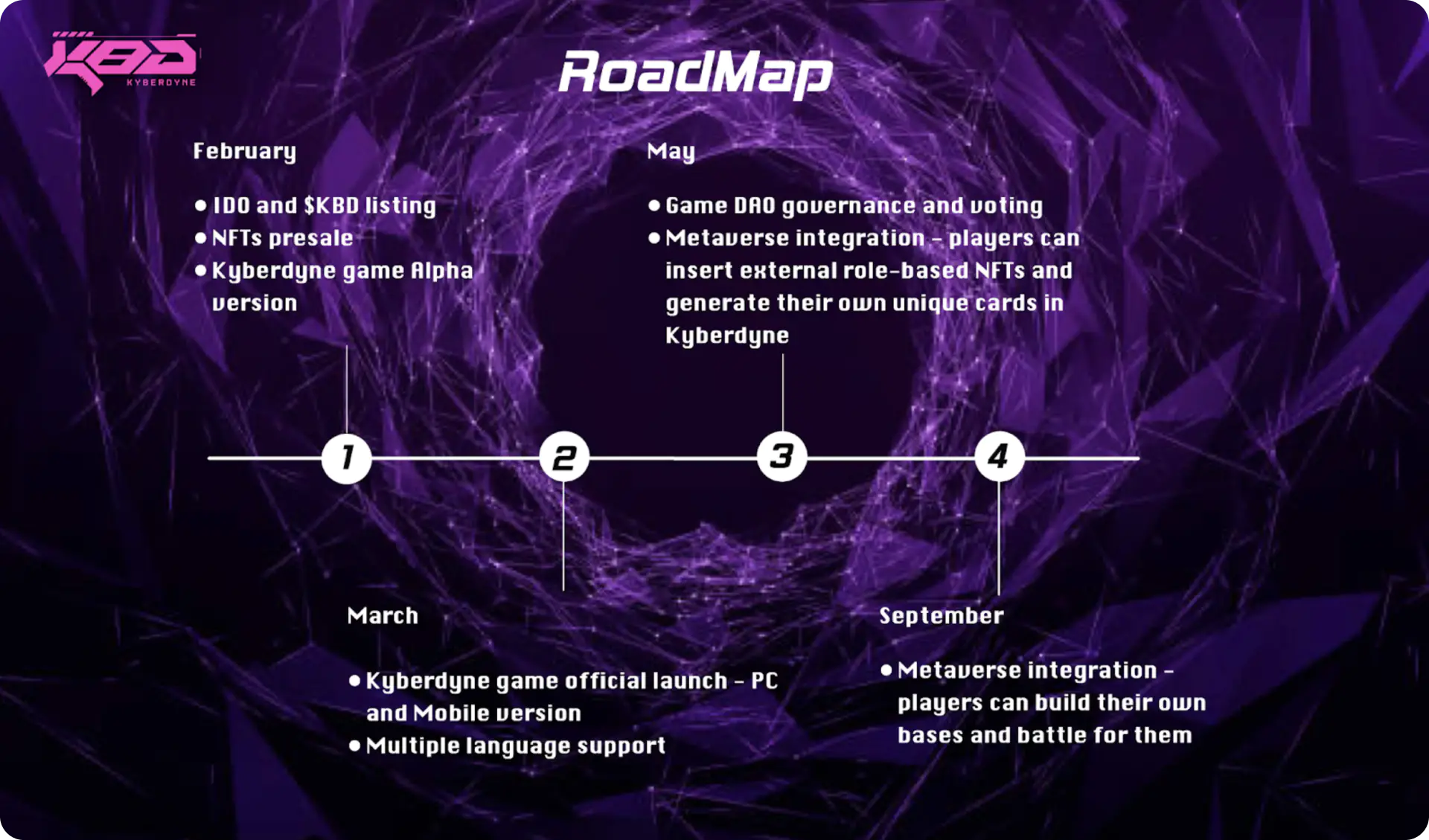 KYBERDYNE REVENUE STREAMS
WHAT TECHNOLOGIES DOES KYBERDYNE USE?
Team uses a Metaverse game engine to build Kyberdyne. This engine can be based on Unity and Unreal but has more powerful rendering features and abilities. The engine also brings a Rogue-like mechanism to Kyberdyne.
Besides the game engine, the team will build an NFT aggregator protocol in the game which allows players to use external role-based NFTs to do discovery and battle in Kyberdyne world.
KYBERDYNE MARKETING STRATEGY
We are building a most immersive blockchain game based on our rich experience in game-play design and continuous content mining. We will create TikTok and Instagram channels and make posts for every event and milestone, then widely spread them with our social channels.
We're contacting crypto game guilds and negotiating agreements with them to acquire the game players. In addition, we have rich resources and experiences in the traditional game industry.
KYBERDYNE TOKEN ECONOMY