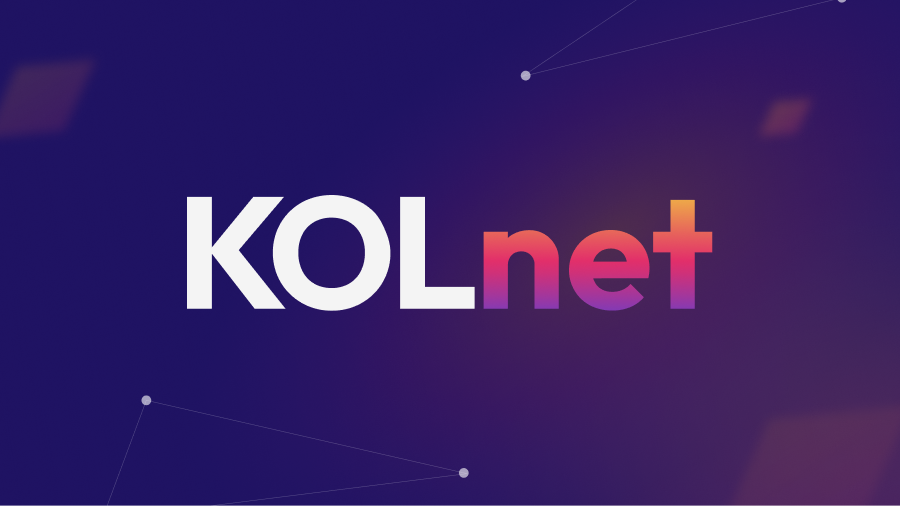 Ticker:
KOL
Blockchain Network:
Polygon
Token Supply:
1,000,000,000
Project Valuation:
12,000,000
Initial Token Circulation:
48,233,333
Initial Market Cap:
$269,400
IPAD SHO Raise:
$50,000
Public SHO Raise:
$100,000
Individual Allocation:
$100
WHAT IS KOLNET (KOL)?
KOLnet maximizes a projects marketing reach through Key Opinion Leaders (KOLs or commonly known as Influencers). KOLs create value by bringing adoption and awareness of projects to their followers and are incentivised with early access to presale tokens.
The current influencer market is worth billions only set to grow in the coming year. KOLnet connects KOLs to companies especially those who are not monetised and these are Micro-KOLs with smaller number of followers but out perform the well known influencers by at least 4x. In essence creating crowd-marketing of micro-influencers which is a revolutionary concept and gaining massive traction across the martech (marketing technology) industry.
KOLnet is an innovative, transparent and fair launchpad that allows early-stage projects to optimize their marketing strategy through Initial Marketing Offerings (IMOs).
Verification of any marketing work and token settlement is automated via Proof of Marketing (PoM). An intuitive and user-friendly way of verifying marketing performance of Key Opinion Leaders (KOLs) while aligning financial incentives of all parties involved.
Post launch projects will in the future be able to lock their discounted native tokens or stable coins into a KOLnet pool; in order that KOLs can join and enabling marketing value to be gained from KOLs. Enhancing token economies through marketing which can boost; project campaign growth, brand advocacy, product awareness, drive to purchase decision.
WHAT MAKES KOLNET (KOL) UNIQUE?
There is no direct competitor and KOLnet is unique in terms of the way the proposition is being offered. There are other platforms offering partial overlap of KOLnet's selling points such as IDO platforms, Crypto Influencer data aggregators and Social Media reward projects.
KOLnet offers Initial Marketing Offerings - IMOs allow projects to attract KOLs in the same way as launchpads or IDOs do, however KOLnet removes the barriers of whitelisting and instead requires the KOLs to genuinely create brand awareness by discussing the project to their followers.
KOLnet's ranking of Micro-KOLs (both on and off-chain) promote trust and transparency, bringing to projects quality Micro-KOLs who are valuable investors that generate marketing reach for projects.
KOLnet is the first to bring Proof of Marketing where KOLs only receive tokens once social media marketing work is confirmed complete. This is done via our integration to Social Media Channels.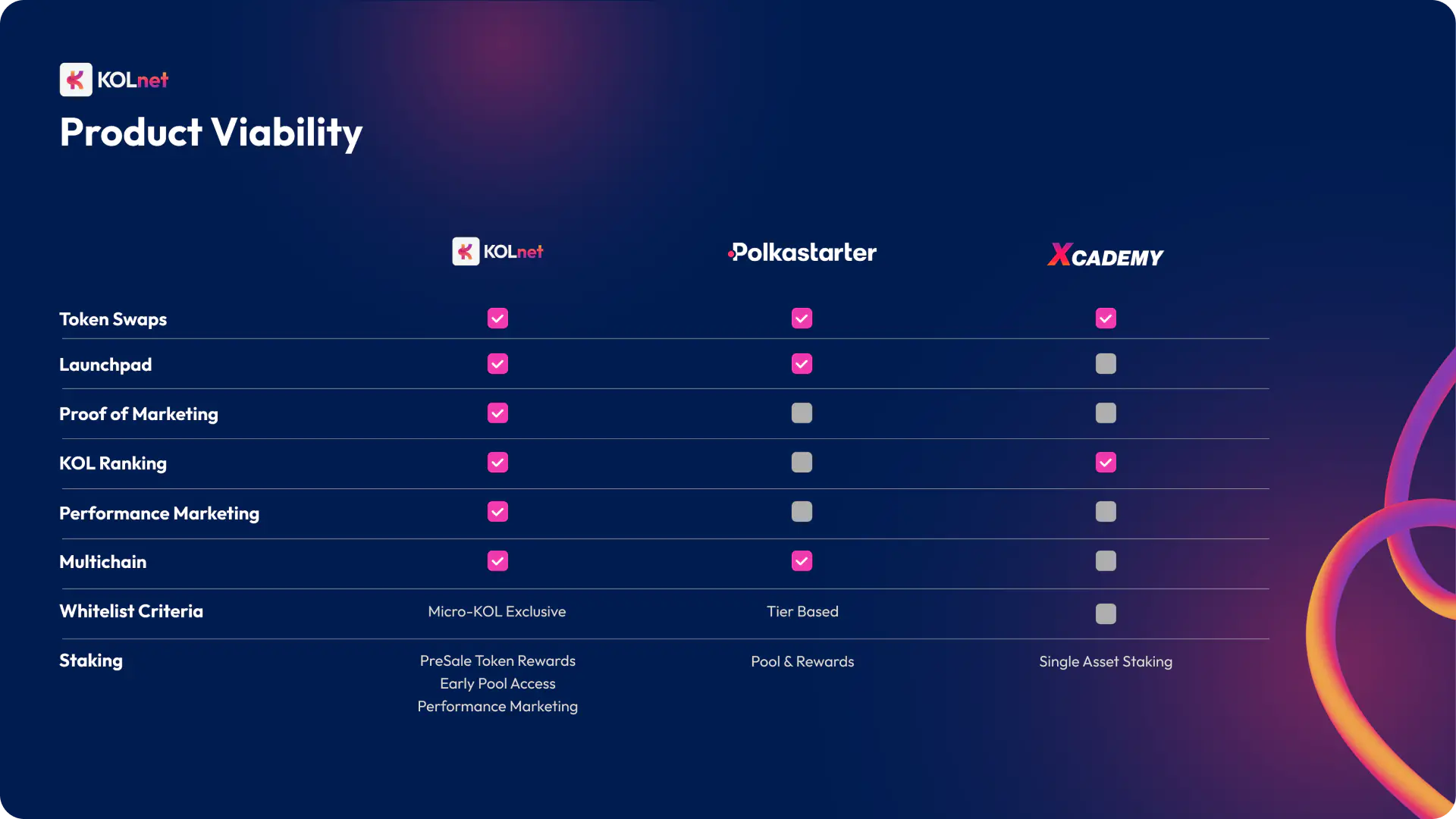 KOLNET (KOL) PRODUCT ROADMAP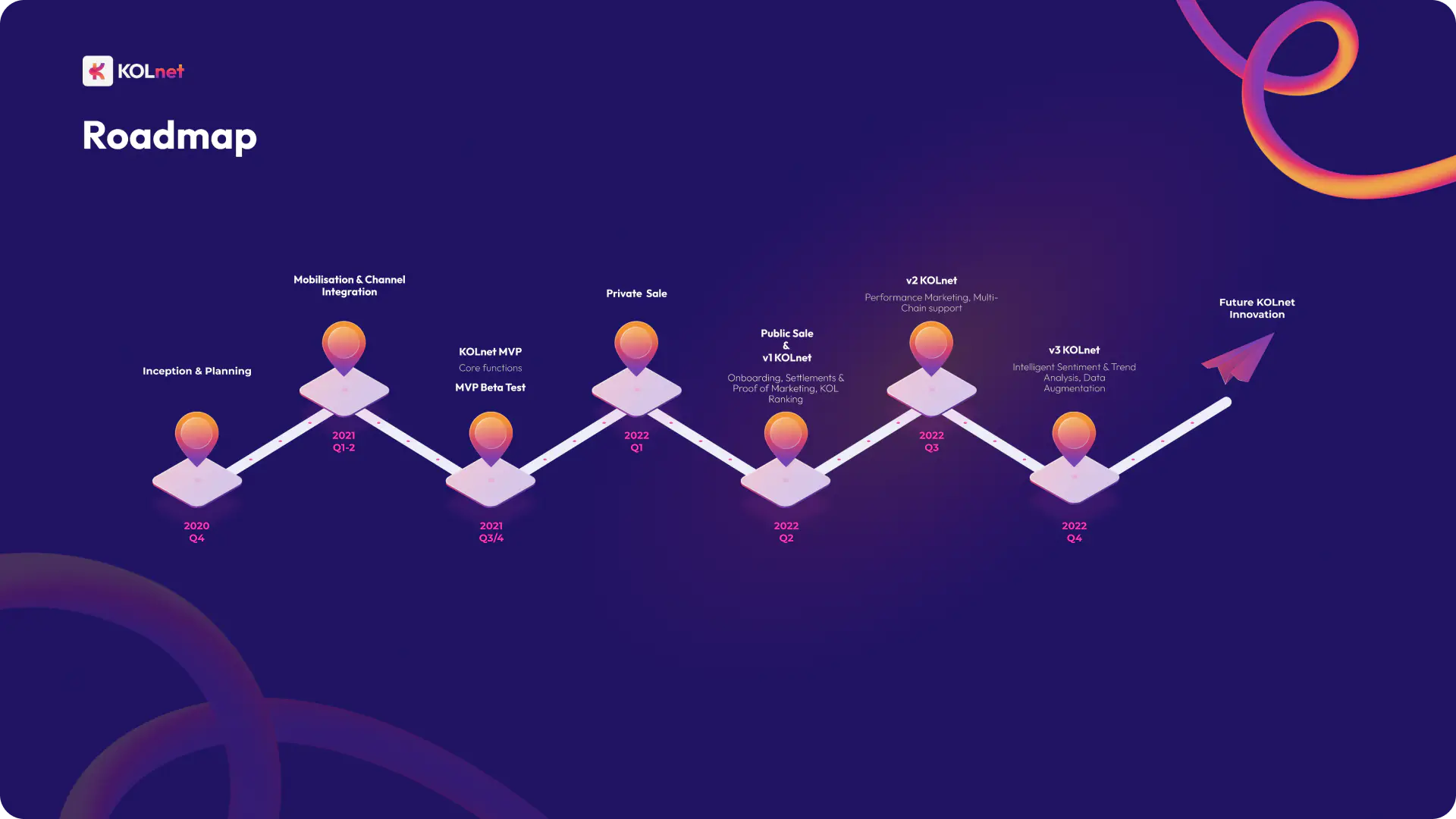 KOLNET (KOL) REVENUE STREAMS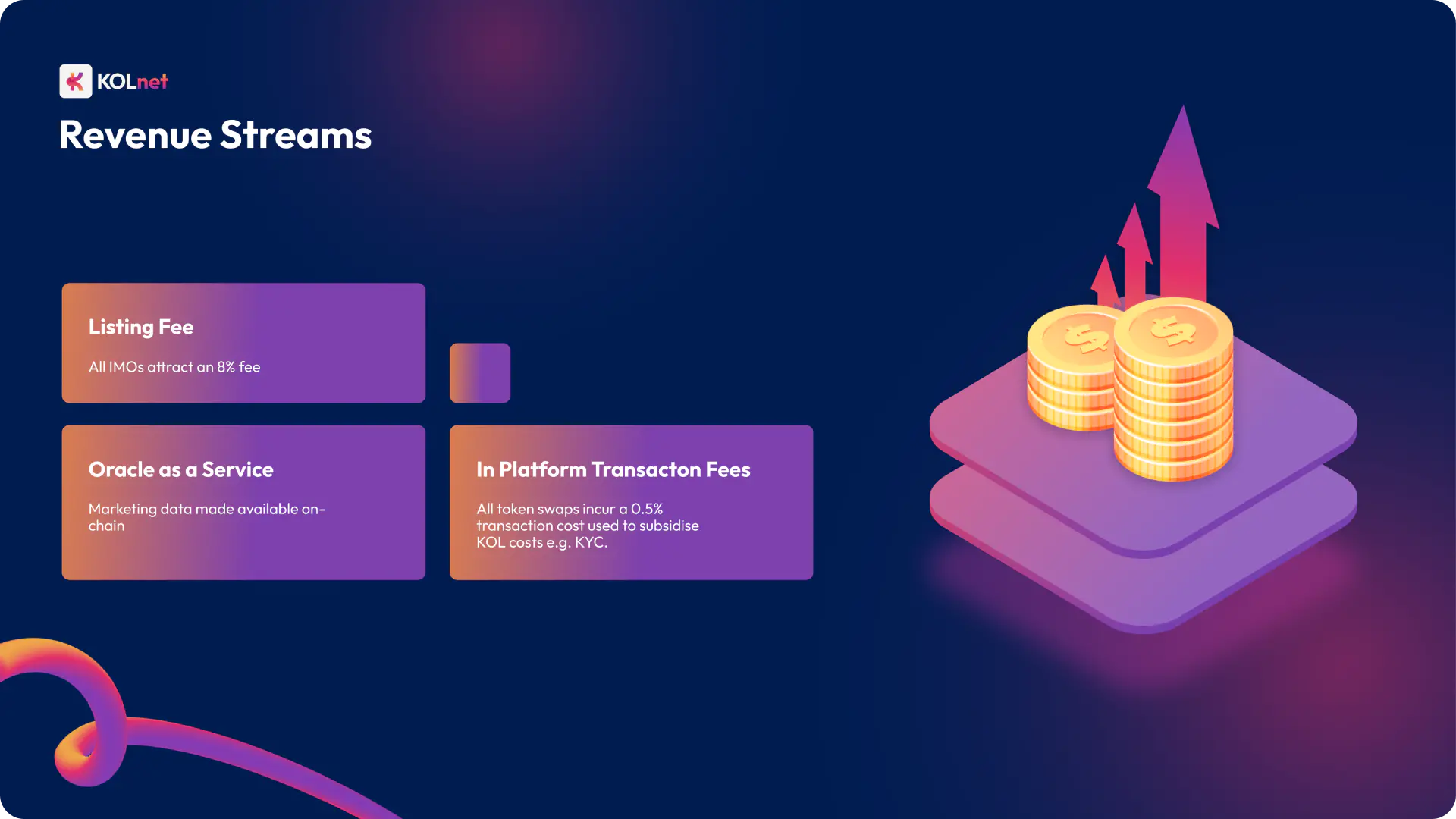 KOLNET (KOL) PRODUCT DIVE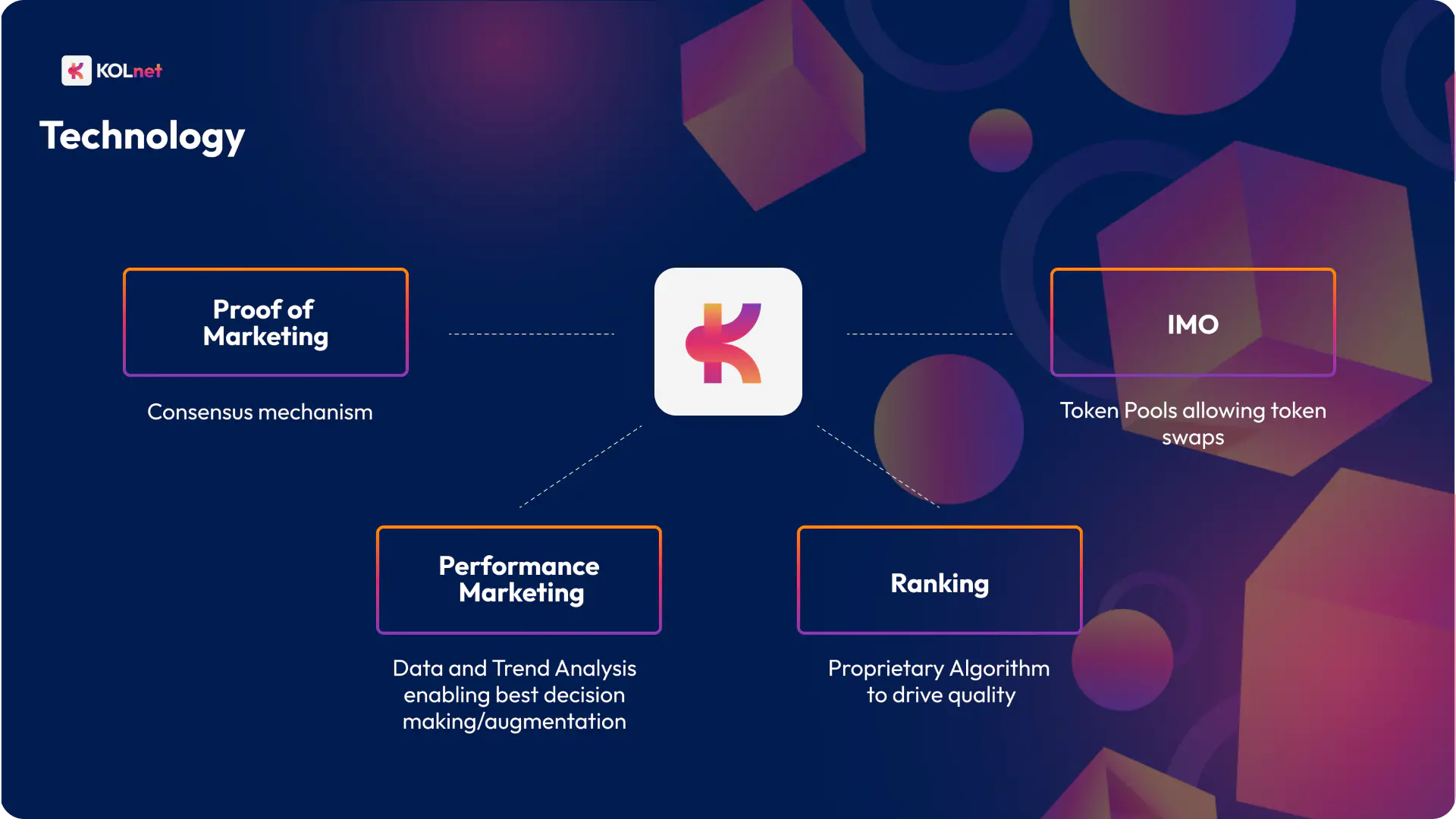 KOLNET (KOL) MARKETING STRATEGY
KOLnet has already pre-registered 300+ Micro-KOLs who will be onboarded once the platform is live. They will also take part in Beta testing and early users on the Live platform. We are building partnerships with incubators, Venture Capitalists, IDO/IEO launchpads for access to up and coming projects.
KOLNET (KOL) TOKEN ECONOMY