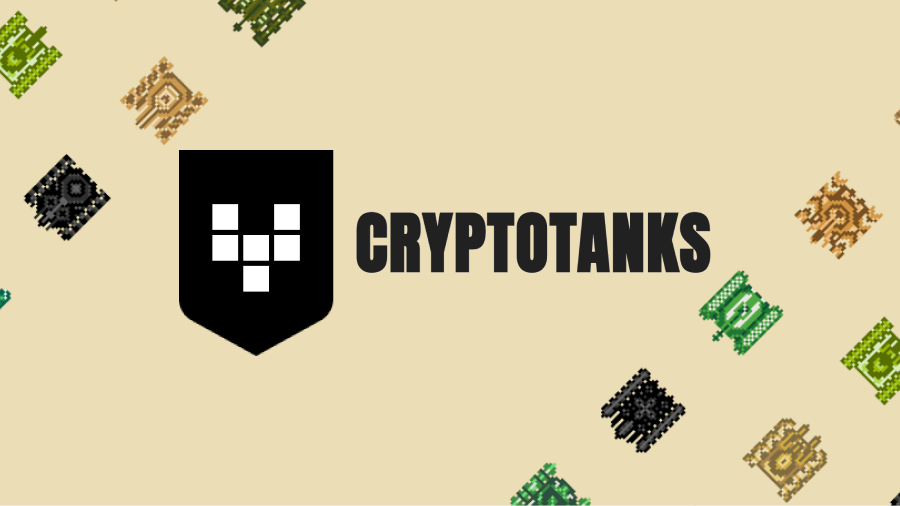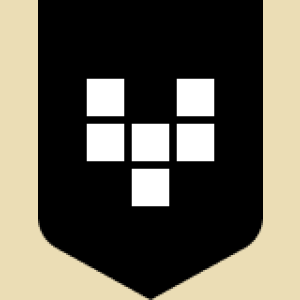 CryptoTanks
CryptoTanks is a Play-to-Earn game where every NFT is 100% usable in their gamified DeFi ecosystem.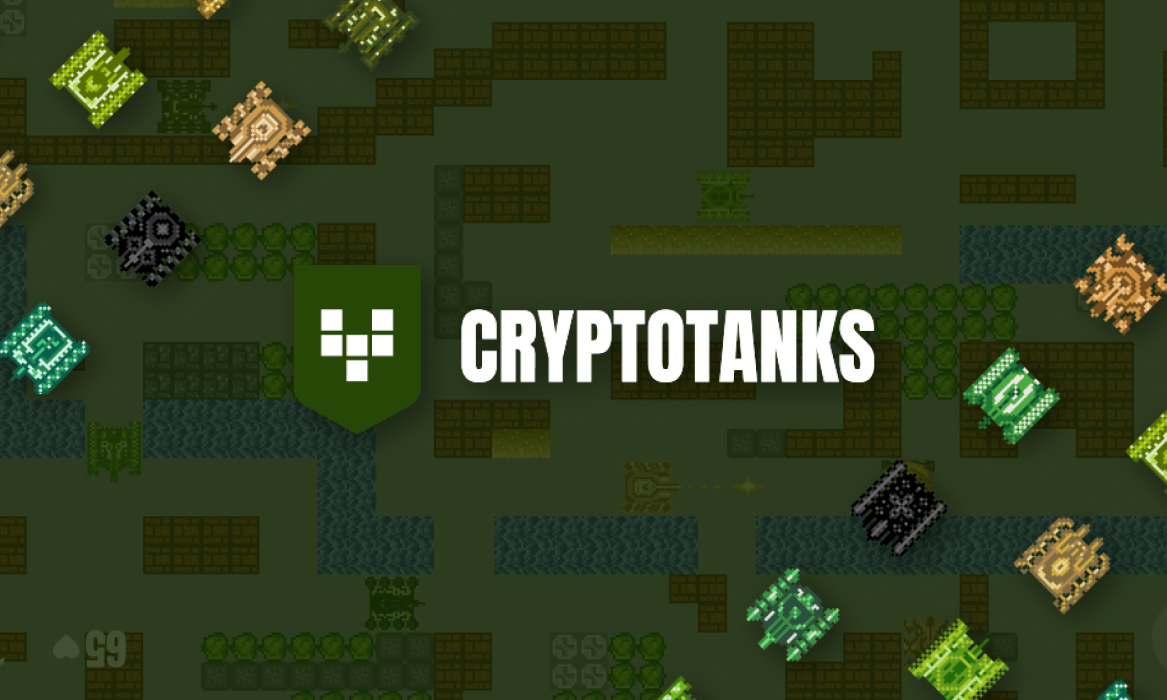 Lead VC
NA
Market Maker
NA
Controlled Cap
NA
IPAD Approved Metrics
Approved
WHAT IS CRYPTOTANKS?
CryptoTanks was based on the cult Battle City game released in 1990 for the Nintendo and Game Boy consoles. But this isn't just a revival, as many new features will make this game much more sophisticated. CryptoTanks feature new locations, missions, tanks, battle modes, as well as a DEFI and NFT ecosystem.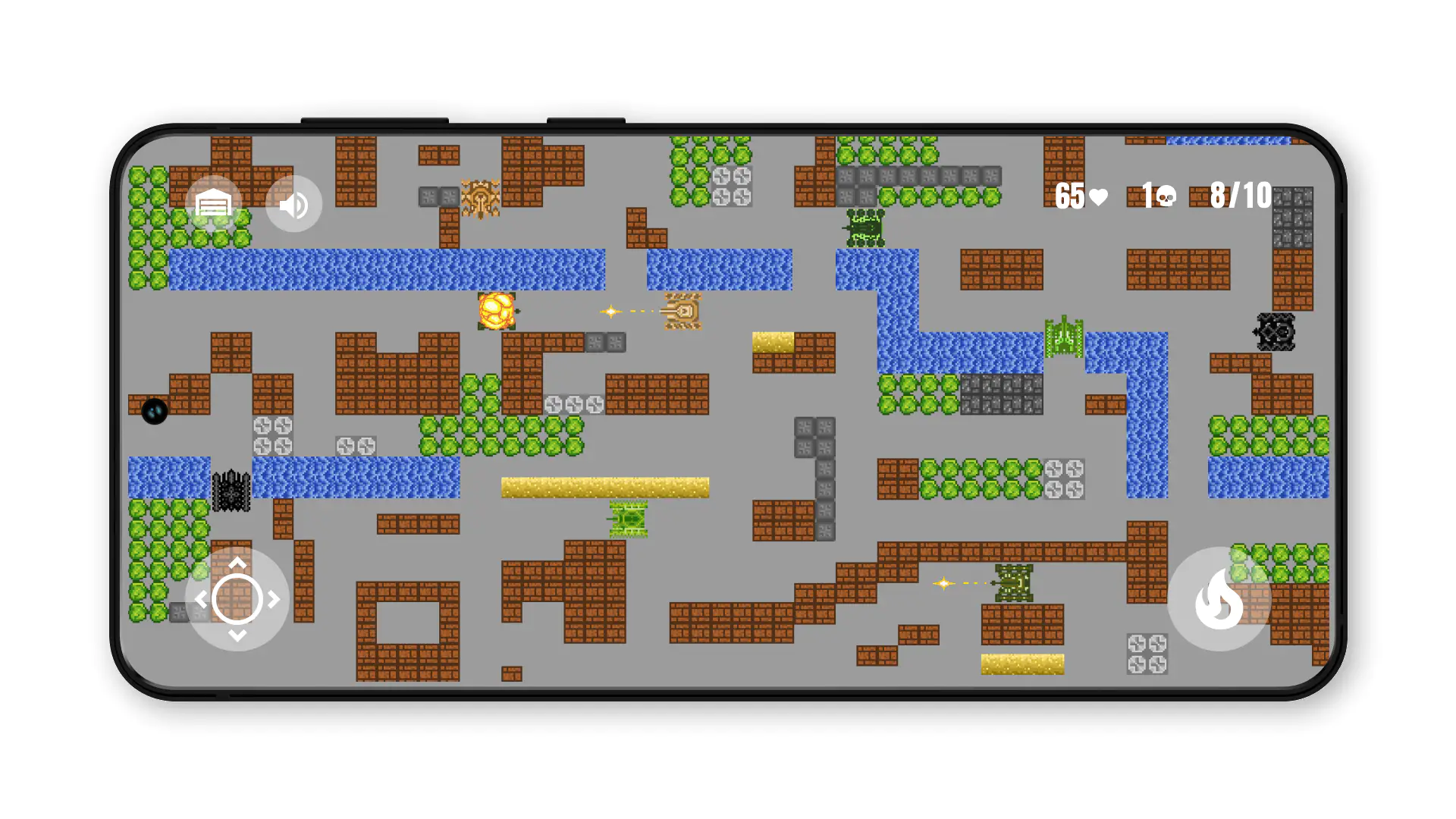 CryptoTanks allows the player to delve into a world of nostalgia and experience the powerful new technology of the crypto world - DEFI and NFT. Now the player can not only enjoy the gameplay of the iconic 8-bit graphics, but also earn by upgrading his NFT tanks in battle and in the garage.
WHAT MAKES CRYPTOTANKS UNIQUE?
Our Strengths
CryptoTanks aims at three niches that have little to no crowding at the moment. The first one is War games. It seems that the most populous gaming genre has been left behind in the play-to-earn scene, and CryptoTanks is looking to take advantage of this fact. Secondly, live-action games, which lack the live gameplay of CryptoTanks with the ability to move your Tank and engage in PvP battles in real-time. Lastly, the 8bit design. Beautiful and nostalgic it has been left out so far, with only a couple exceptions by games that haven't taken off, while there is a huge amount of gamers out there ready to relive it or to explore playing with it for the first time.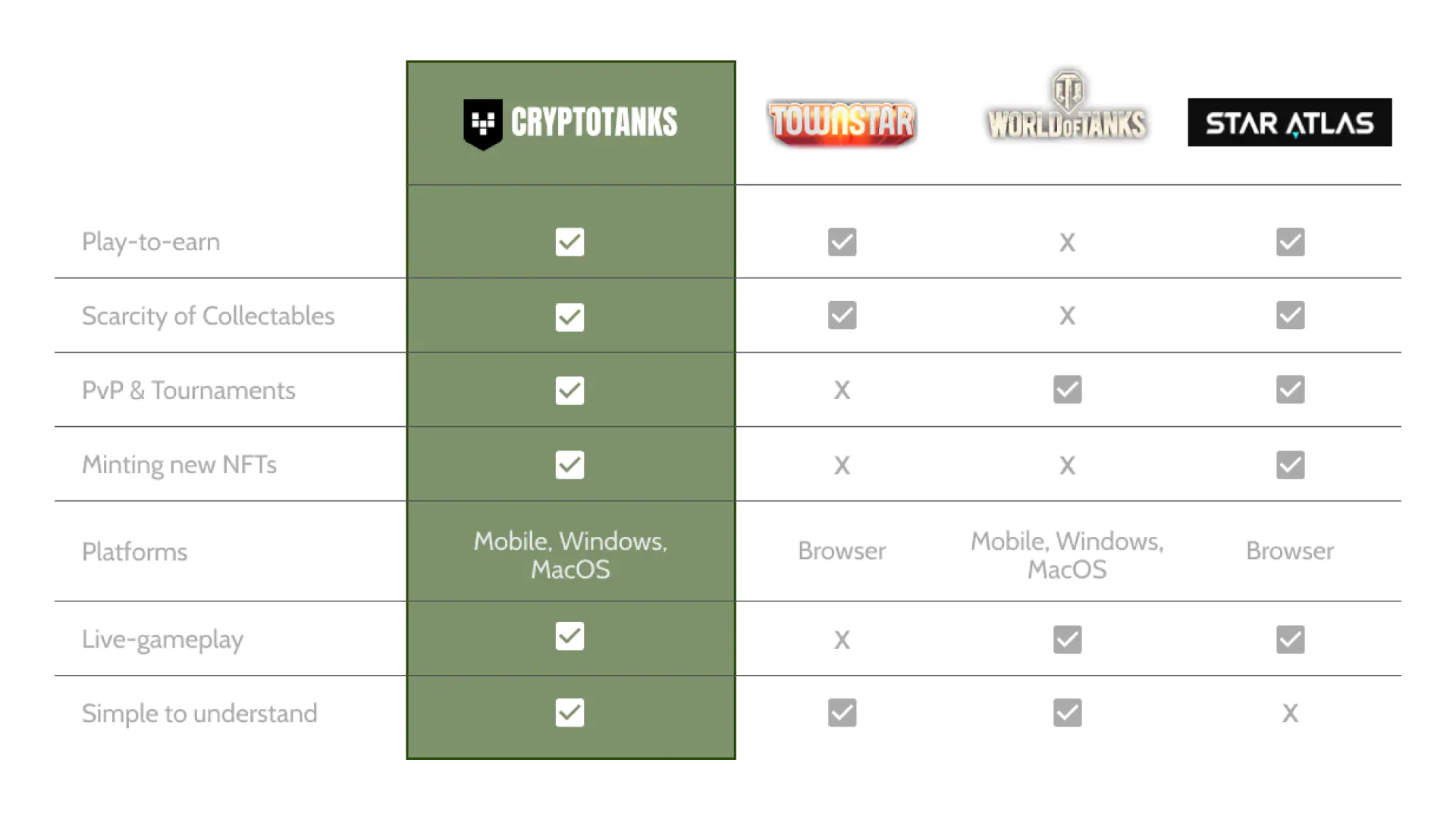 CRYPTOTANKS PRODUCT ROADMAP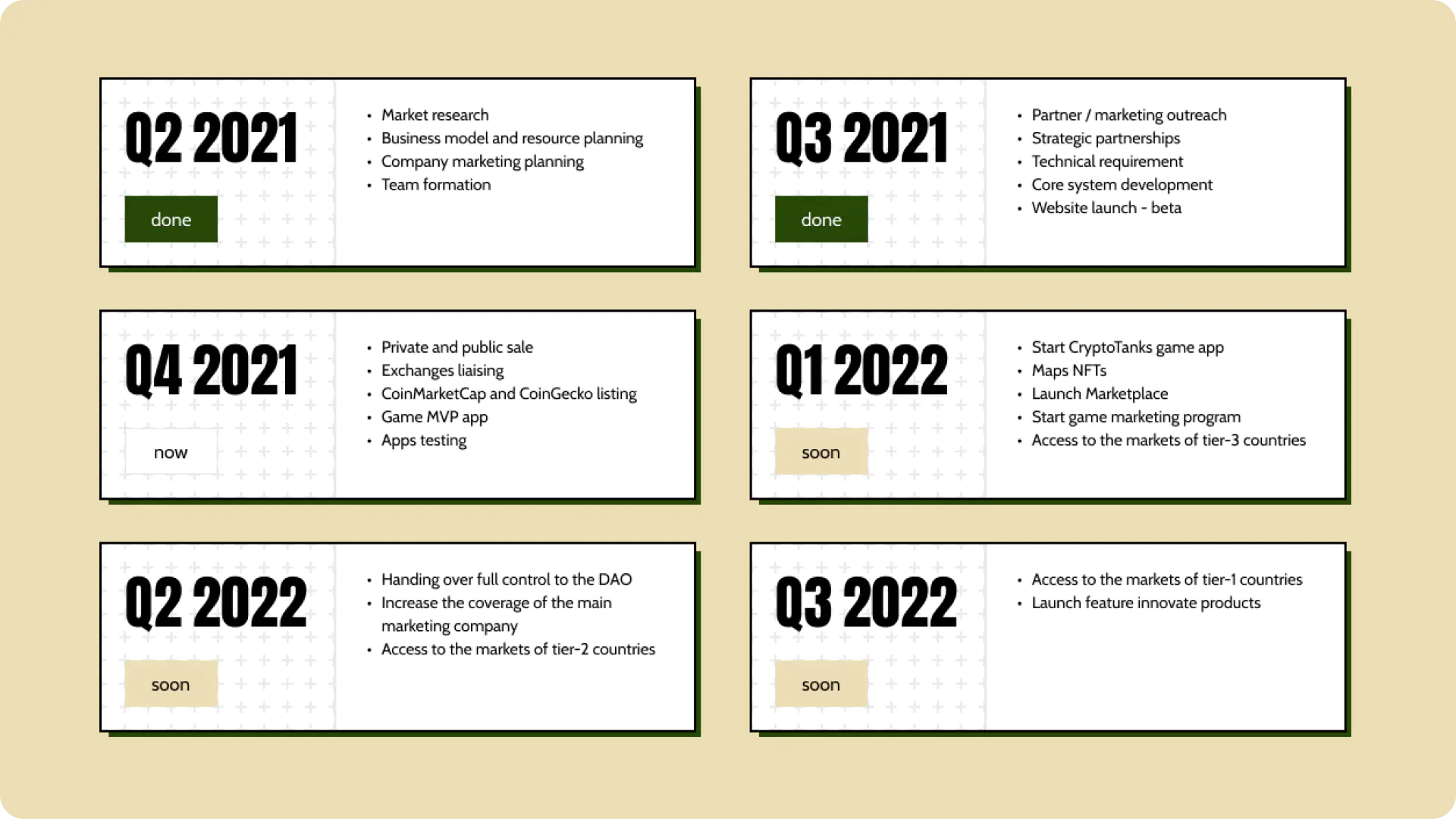 CRYPTOTANKS REVENUE STREAMS
The revenue stream of CryptoTanks is quite straightforward. It's important to know that this revenue goes towards the game's development and into the DAO that will be formed later on, not to the team.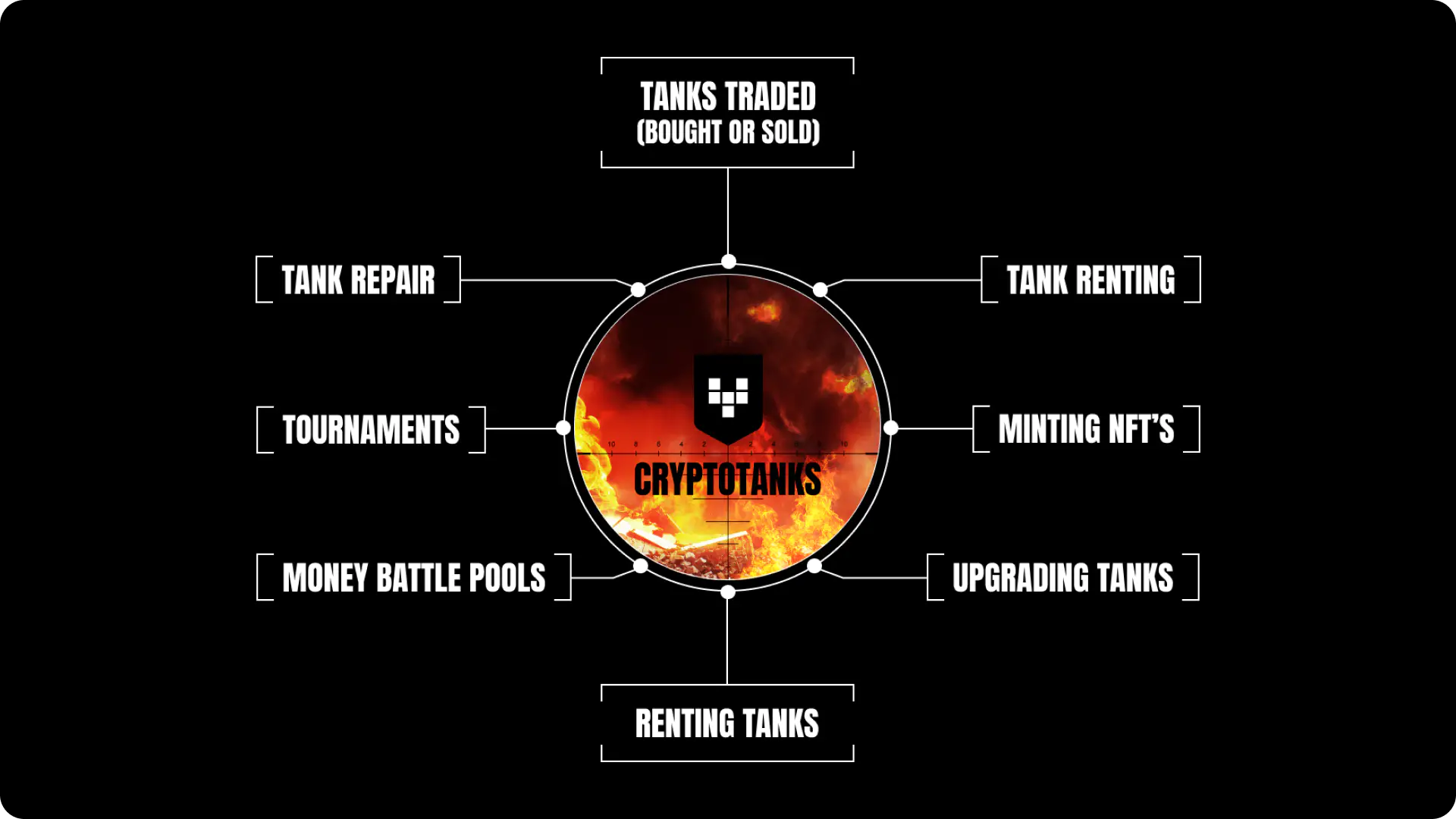 The primary source of revenue has two parts. The first one is the tokens spent by users to buy Tanks in the Shop. In the future, the cost of minting a Tank will also fall under this flow of revenue.
The second part is the 4.25% royalties in the reselling of already purchased or minted Tanks in the p2p Marketplace. There is also a burn rate included in that percentage, meaning that part of the royalties will get burned, making the $TANK token deflationary.
There are also going to be secondary revenue streams, one of them is a small percentage of the prize pool in the Money Battles, where players contribute their tokens towards a prize that gets taken by the victor.
In the future, tournaments will also be added, and betting on their outcome will be enabled. A percentage of the bets will also go towards the DAO.
Upgrading fees will also exist for when players level up their Tanks. Most of it will be included in the revenue, and an amount is going to be burned.
Lastly, CryptoTanks will have a naming option for the Tanks. The fees for the naming of the Tank are going to be burned entirely.
CryptoTanks will add more complex systems in the future. For launch, they want to keep it as simple as possible - simplicity is elegance.
CRYPTOTANKS TECHNOLOGIES USED BY THE PROJECT
In the process of development, we use the following stack:
Slack - for developers team communications.
Jira (Scrum) - issue tracker.
BitBucket - remote git repository.
Docker (k8s) - containers images.
BitBucket (CI/CD) - pipelines - DevOps.
Confluence - internal documentation for developers.
Sentry - bug tracker.
CloudWatch Canaries - checker.
Antifraud - in-house solution.
Apps stack
Website
Frontend: VUE
Backend: Python(FastAPI)
DBs: Postgresql, Clickhouse, Redis
Game App
Frontend: Unity
Backend: Kotlin
Blockchain: Ethereum - TANKS ERC20 token; Polygon - Tanks, Maps NFTs, game actions;
Hosting: AWS
CRYPTOTANKS TOKEN ECONOMY
For starters, the $TANK token will be an ERC-20 token, as the game itself will be on the Ethereum network. Worry not though, you will not have to wait for ETH 2.0 to not transact with sky-high gas prices, as the settlement layer will be on a Layer-2 solution and the fees are going to be minimal.Use Cases
$TANK token can be used in the following five ways:
Buying a CryptoTank and enjoying the game itself, of course, whether it's your first one or just expanding your collection! The variations are so many: remember different Tanks, different battle stats and abilities, different gameplays!
Purchasing the upgrades, you unlock with combat experience gained from the various battle types. This way your Tank can be upgraded to its most powerful form, so you can blow up your enemies with ease. You can also use tokens to rename your Tank. The renaming fee will be completely burned.
Stake your $TANK tokens in-game or in liquidity pools on DEXs/CEXs. Earn either more $TANK tokens or LP tokens earned from the liquidity you add to the TANK/ETH pool on DEXs. If you are not new to crypto, you already know how staking works. A big part of the already scheduled allocation is for the staking rewards. CryptoTanks will keep you updated on which exchanges are going to have $TANK. They are, of course, working towards a listing on all of them.
As with any on-chain token, you will have the ability to also trade $TANK tokens in DEXs/CEXs.
Rent a CryptoTank so you can test drive it if you are not too sure about buying it first, so you can find the perfect one for you! You can, of course, rent out your own collection of Tanks and receive passive income for the extra Tanks you don't use. A percentage, you personally select, from the game rewards of the player that rents your tank, will be accounted to you. The combat experience gained to level up a Tank will also remain to your Tanks!
The future DAO
The $TANK token also has a function that does not have a financial bearing, but it empowers the players who will, quite literally, own the game. $TANK is going to be used as a voting method in the future DAO that will assume control of the game after its release. That way, players will have the ability to shape the game by voting to their liking. Future updates, new features and all other things that are game-related will go through player voting.