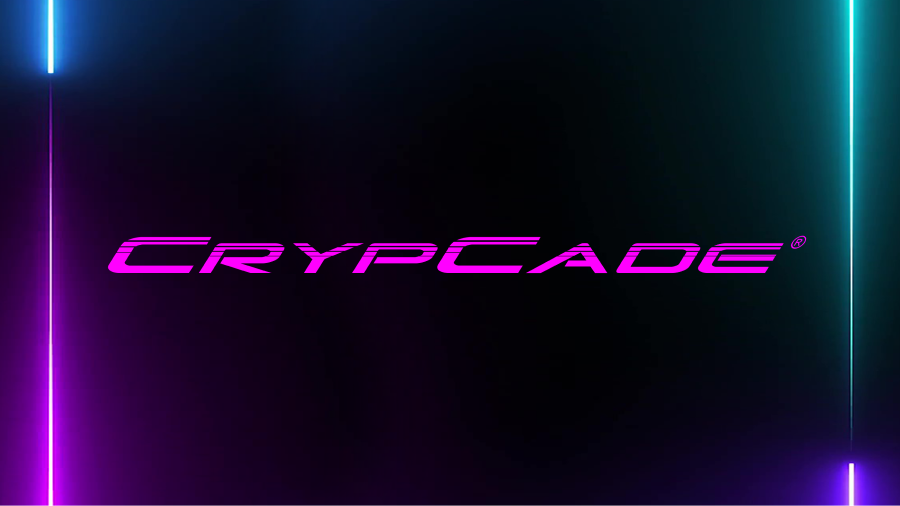 Ticker:
iCADE
Blockchain Network:
BSC, Multichain, Interoperable
Token Supply:
750,000,000
Project Valuation:
$30,000,000 (Public price)
Initial Token Circulation:
22,500,000
Initial Market Cap:
$496,000
IPAD SHO Raise:
$50,000
IPAD SHO Allocation:
$100
Public SHO Raise:
$50,000
Public SHO Allocation:
$200
WHAT IS CRYPCADE (ICADE)?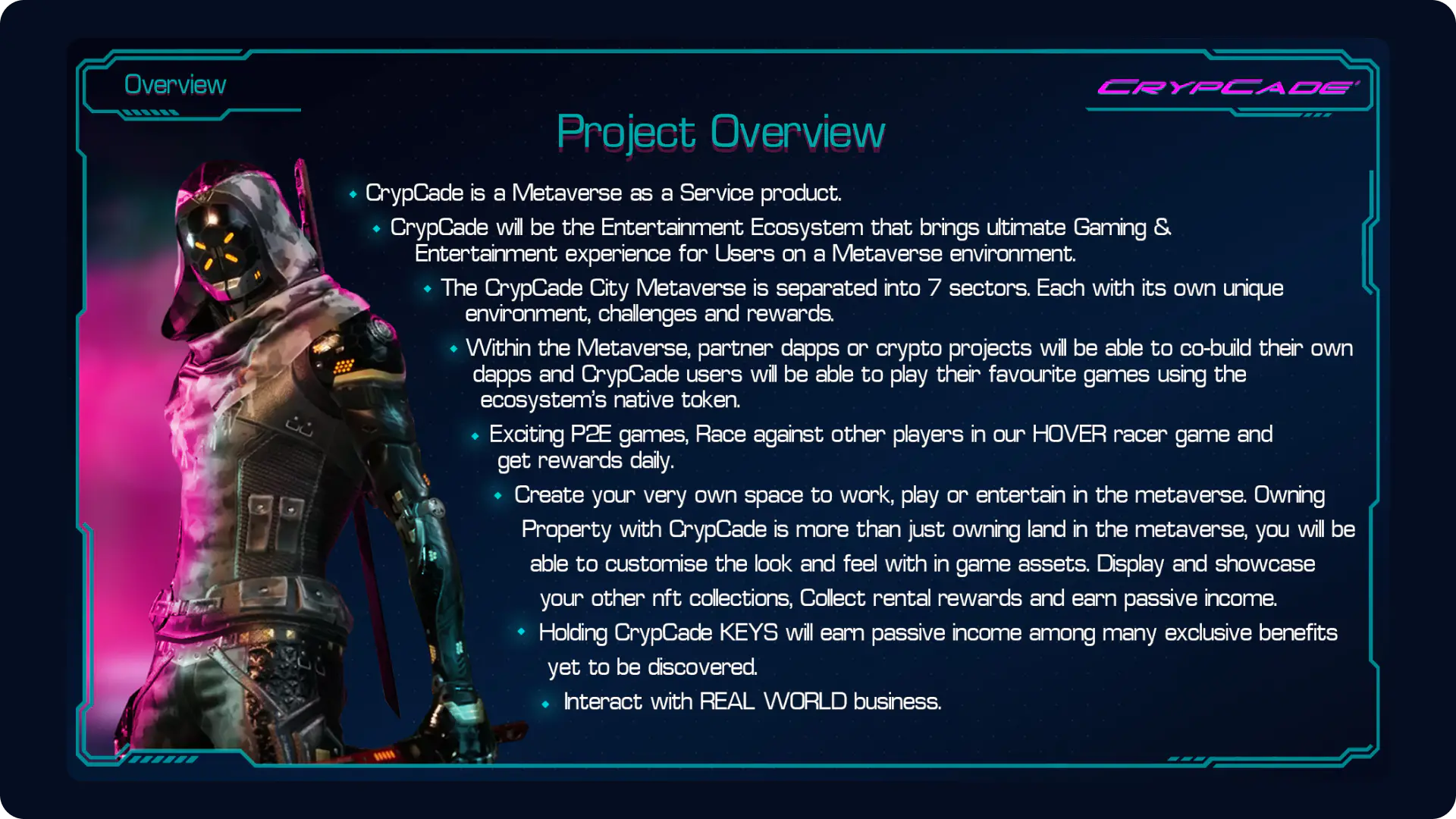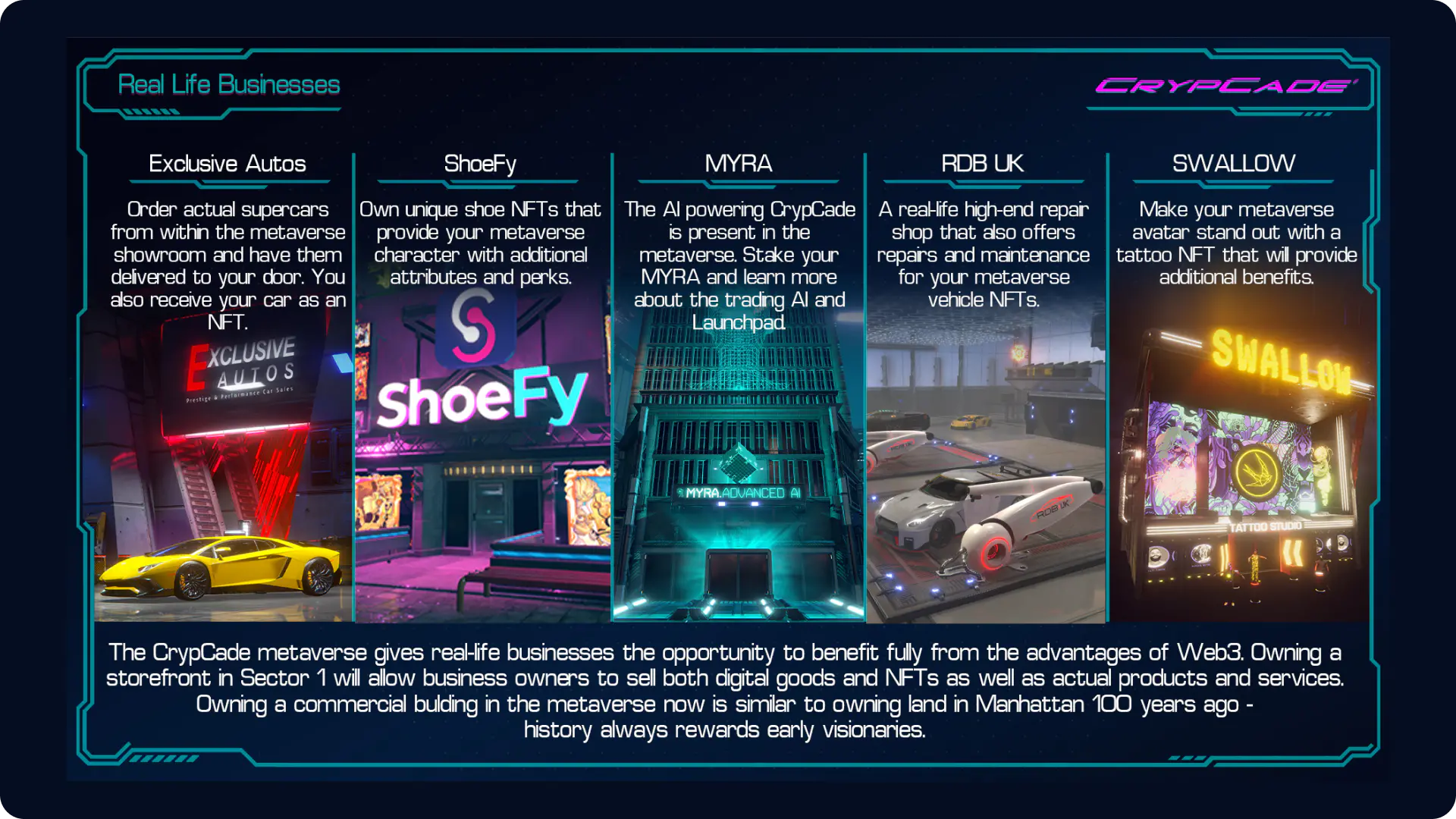 WHAT MAKES CRYPCADE (ICADE) UNIQUE?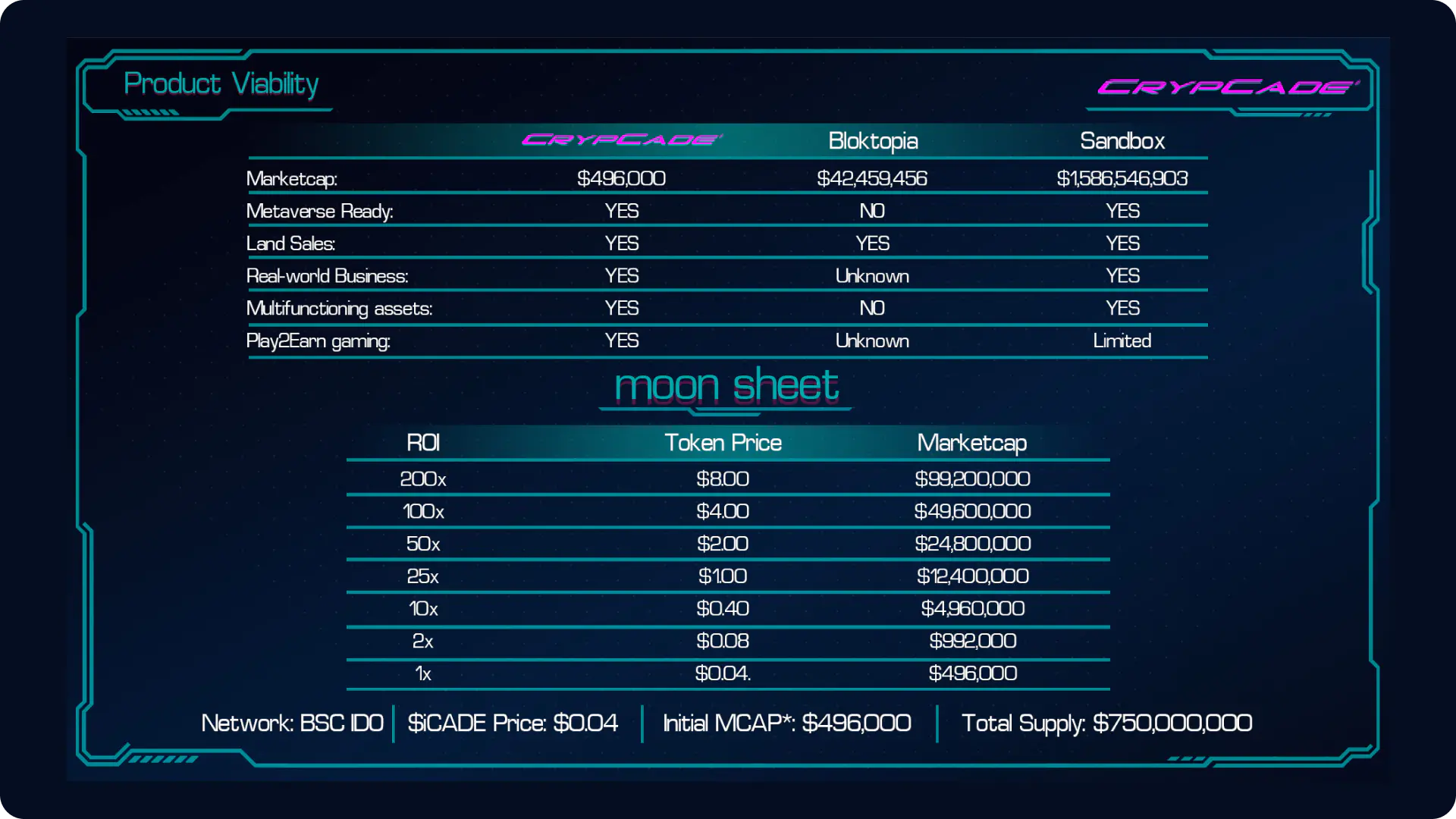 The CrypCade Metaverse is creating an immersive world that will use growing technologies such as 3D,AR, VR, MR, AI. The ecosystem is comprised of 4 main parts. Gamefi, Social Interaction, E-commerce and Advertising. Play to Earn and Player vs player games, arcade games, and an array of exciting sectors and playable content will be introduced for years to come, relax at your very own club lounge where projects or groups can create their own space and use social chat to engage in meets, AMAs, gatherings and meetings, turn your Web2 into Web3 by taking your online business or project and having it built in the Crypcade Metaverse in a 3D interactive store front or building!
Take advantage of the advertising in the metaverse with locations across the city showcasing displays, banners, billboards, holograms, much like the real world you can advertise your project or business inside this virtual world and be a pioneer of the Web 3 space within the Crypcade Metaverse.
CrypCade makes use of the blockchain via the BSC network and its token iCade, this will be used as the economy in the metaverse as in game currency to purchase NFTs, Property, Vehicles, In Game assets and upgrades, customisable character perks and much mor.
CrypCade utilises the Ethereum network for its NFTs with character nfts that are purchased and used in the game giving them utility in the metaverse, each having different attributes and looks, the CrypCade Keys are exclusive access pass keys that will enable its owners to receive special access to restricted sections, early access to new sectors, guaranteed mints for future nft launches including the land sale, they will also grant access to the revenue pool which will distribute proceeds from CrypCades profits to holders of the Keys, Property and iCade stakers.
CrypCade truly is Metaverse that will allow users to be a part of the next phase in blockchain metaverse experiences.
With a TOTAL diluted market cap of $30,000,000 CrypCade has a lot of room to grow.
CRYPCADE (ICADE) ROADMAP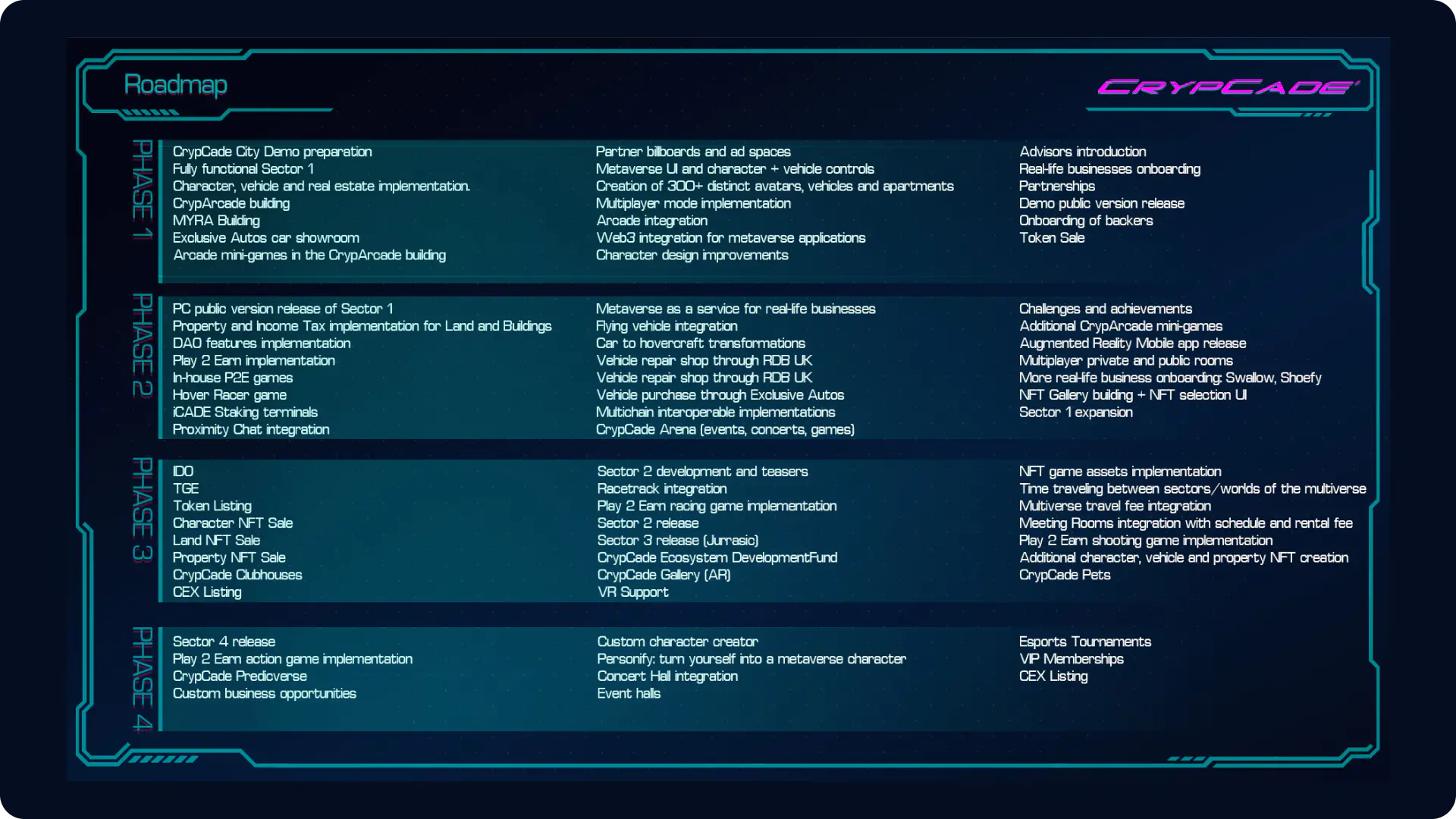 CRYPCADE (ICADE) REVENUE STREAMS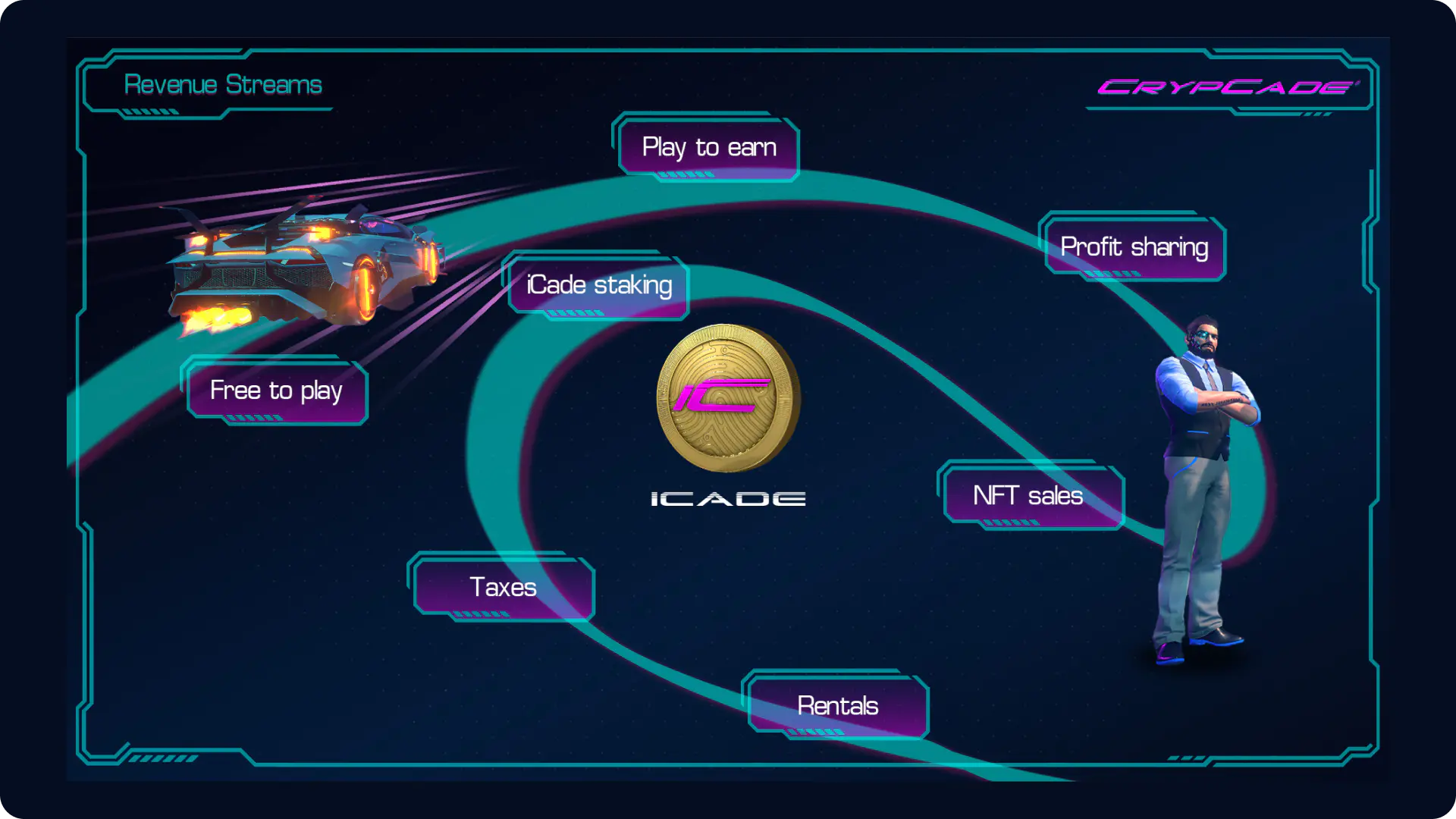 CRYPCADE (ICADE) Product Dive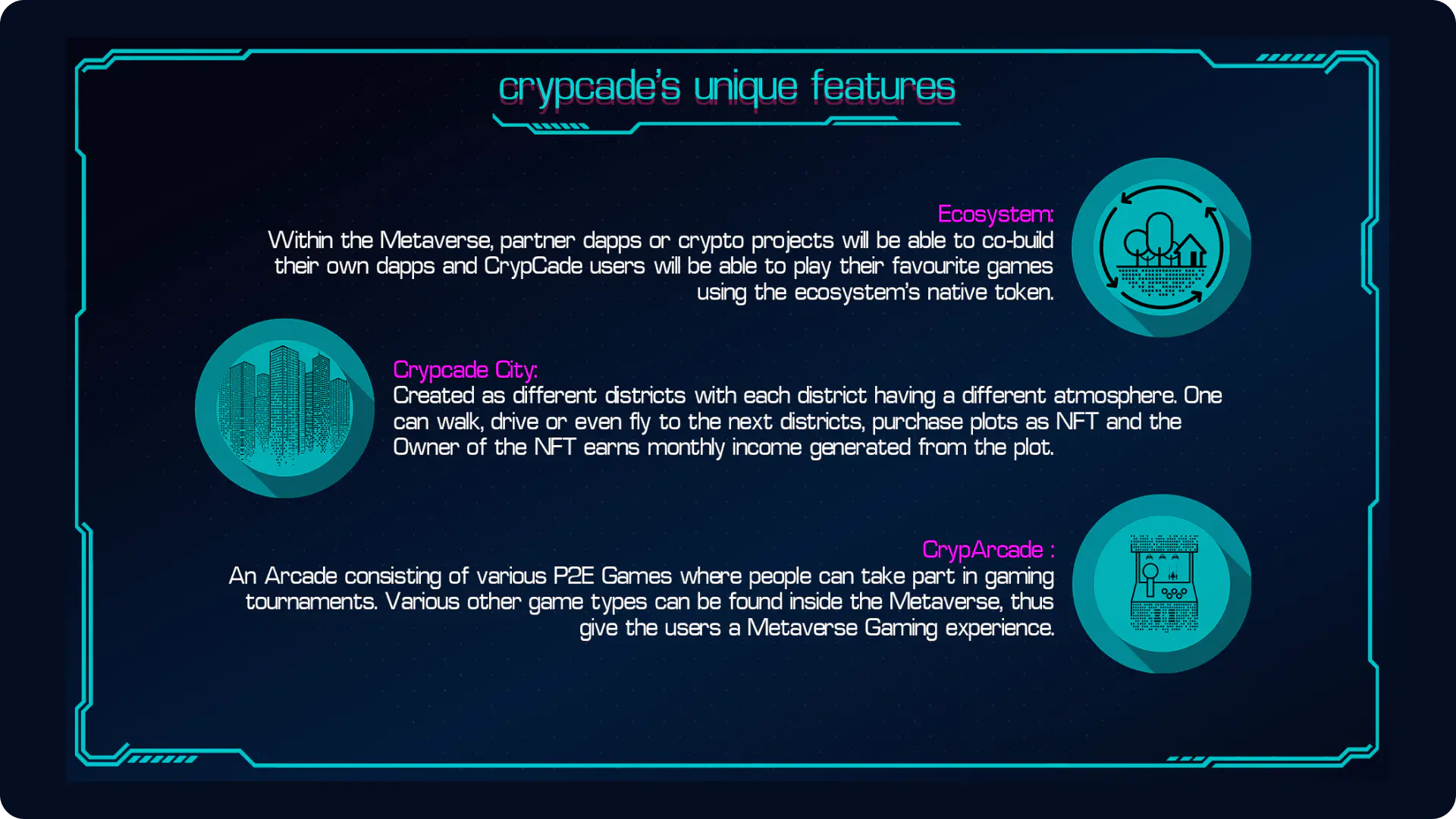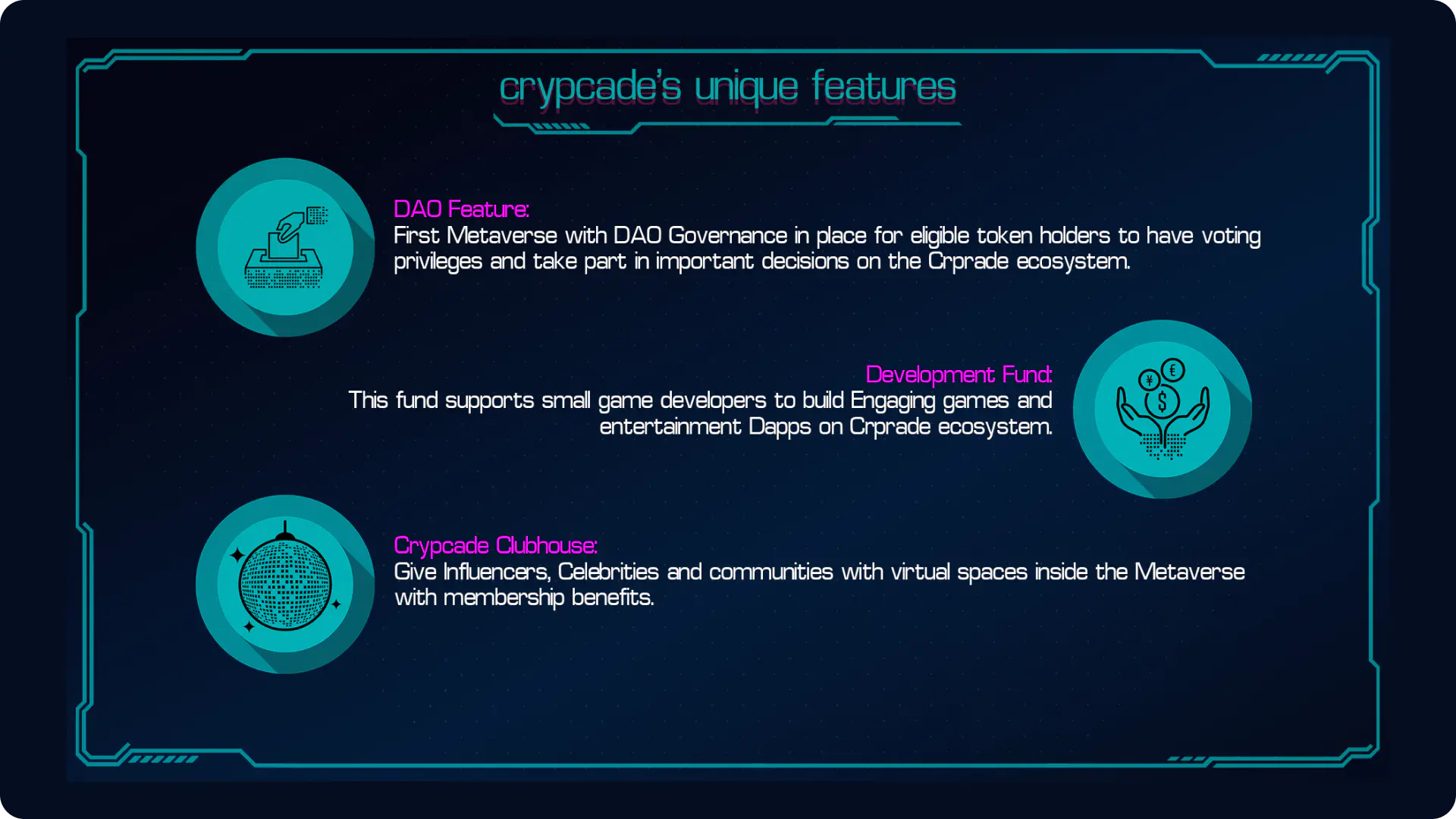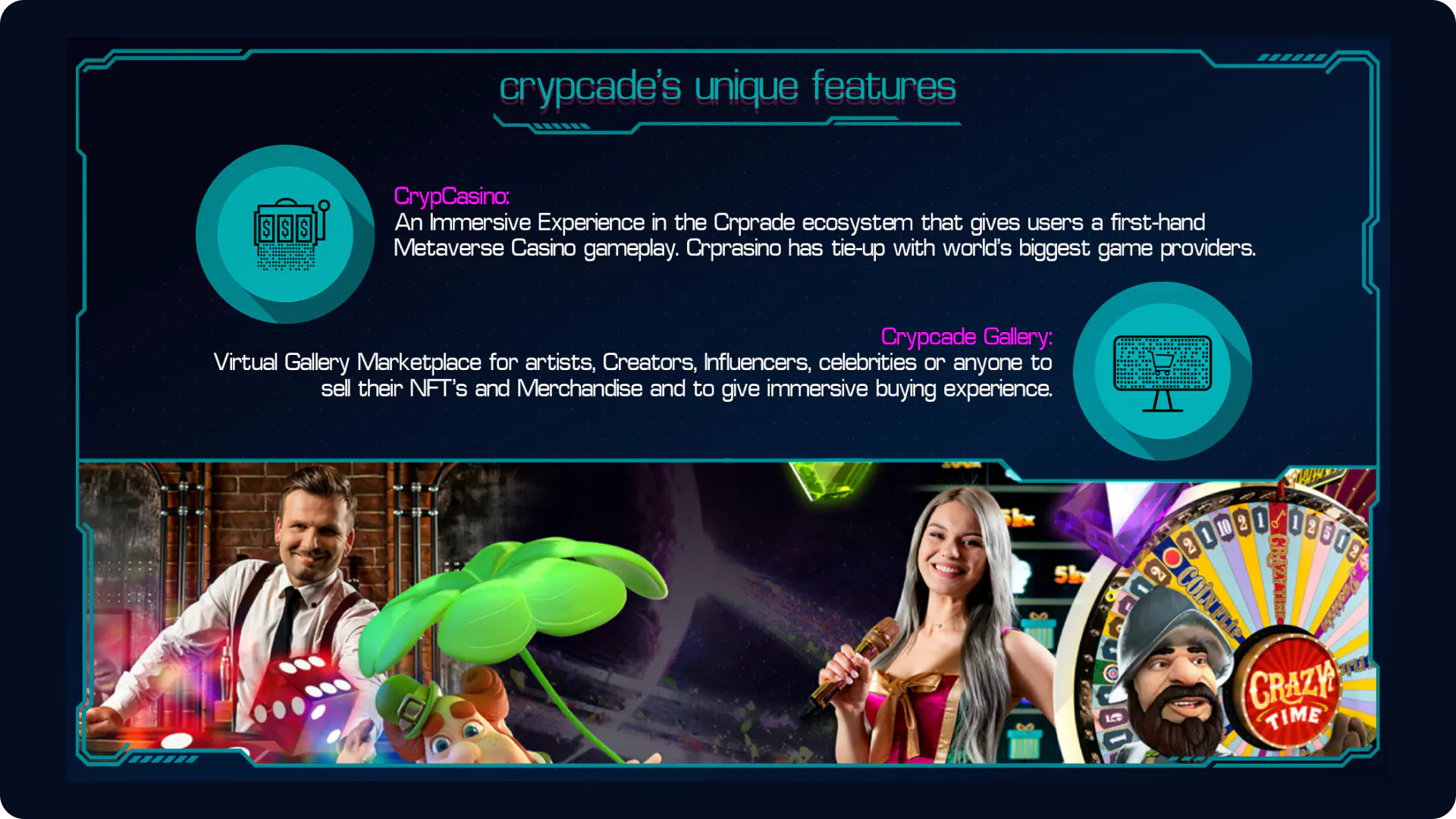 Like to Gamble? Here you can find not only CrypCades own fine casino but also some casinos that have been approved to be inside the City limits.
Like to Game? Here you can find the finest Play2Earn Games available anywhere across the galaxy. HoverRacer! try your luck at getting the fastest time within a 24 hour period and enjoy massive rewards . Be a great racer in the city of CrypCade and earn your respect and right to travel to the elite sectors.
Apply for your business to be inside the CrypCade city space and get paid tax revenue and own your own virtual store.
Stores can be anything from a smart contract based Defi system to an NFT shoe and everything in between.
Try out your skill in the CADE Titans Play2Earn shooter transforming Mechs. Get exclusive NFTs inside the game and sell them for REAL profits in the CrypCade NFT gallery located inside sector 1.
Be the last to survive in the Cade Battle (Royal) join up to 40 players to be the king of the hill. |
Get Paid to Be the BEST!
You can earn and become one of the richest Citizens in CrypCade City. Some ways to earn passively are the integrated Move2Earn systems whereby the longer distance the avatar walks/runs/flys the more reward is airdropped. A real Play 2 Earn integration but on a bigger scale. Earn using your skills inside the Arcade or try out one of the several Skilled Based games.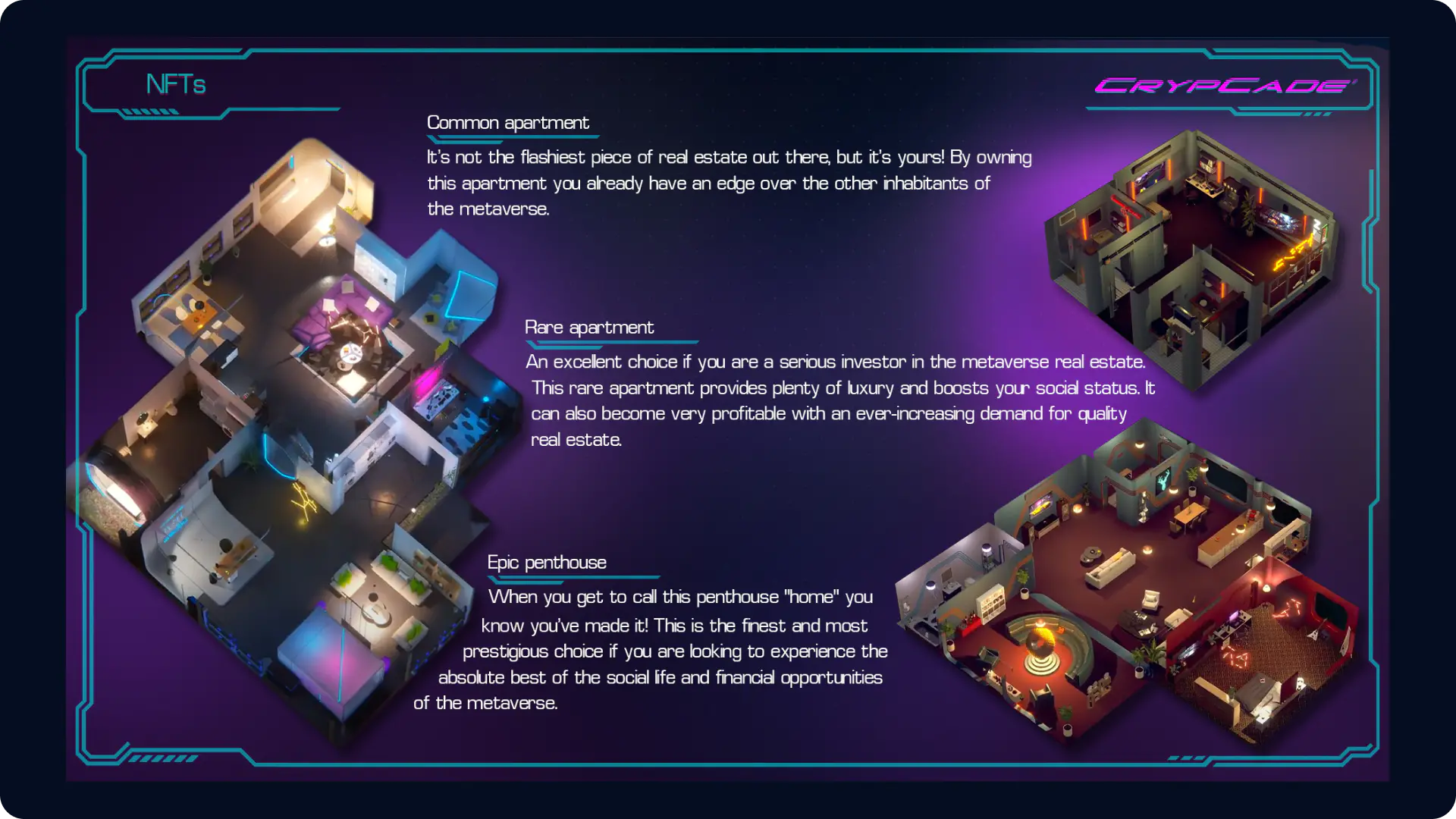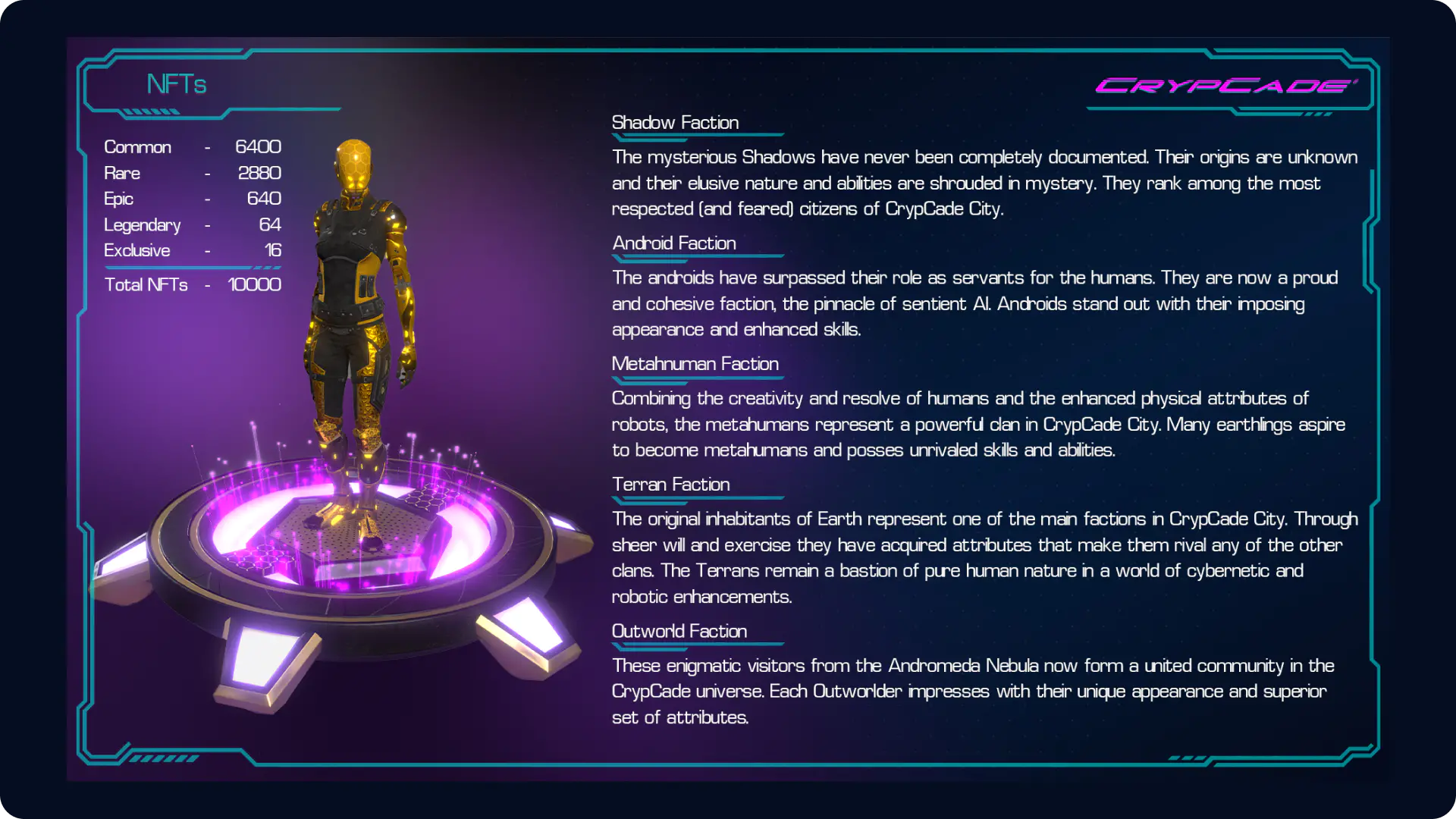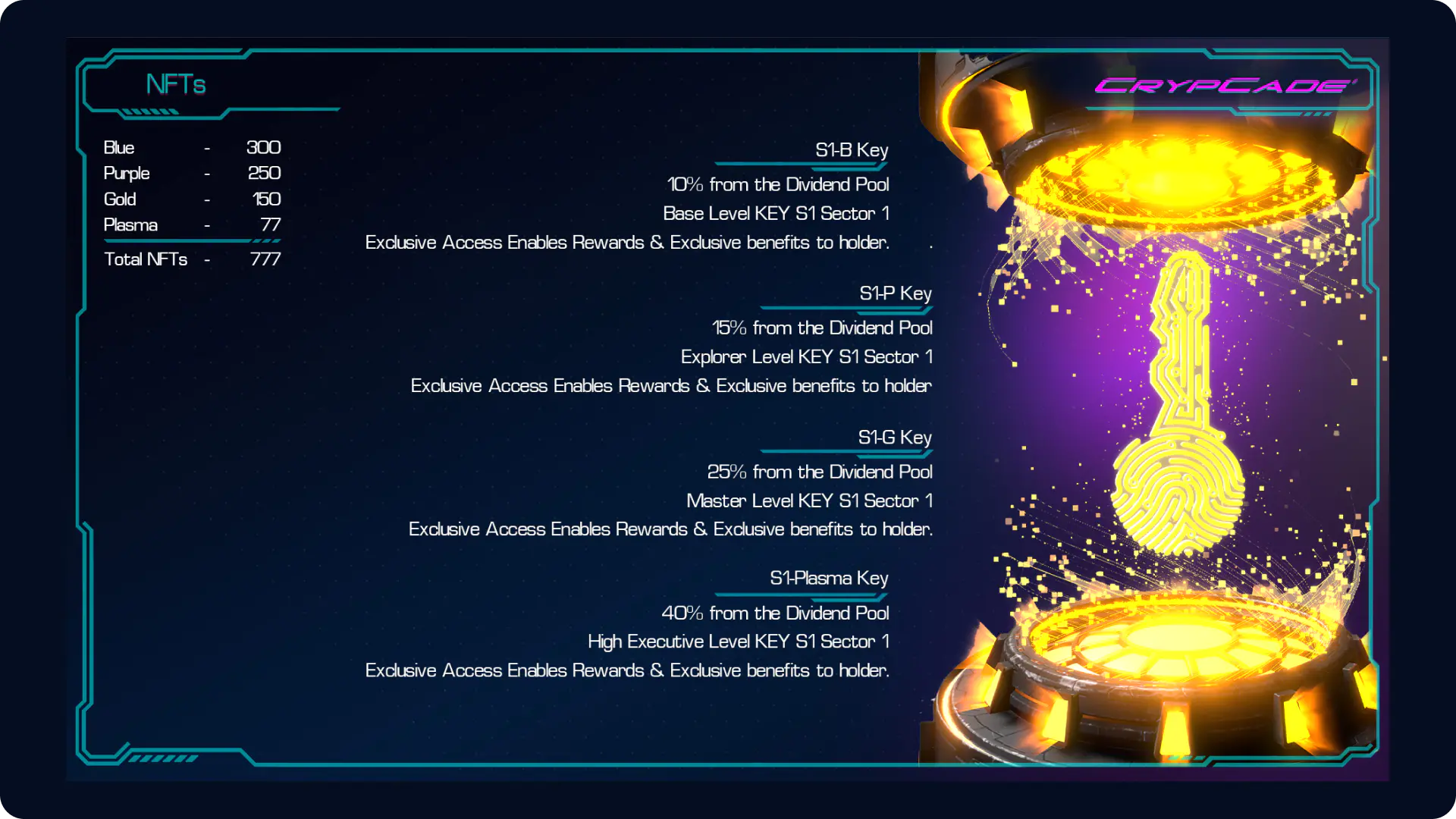 CRYPCADE (ICADE) Marketing Strategy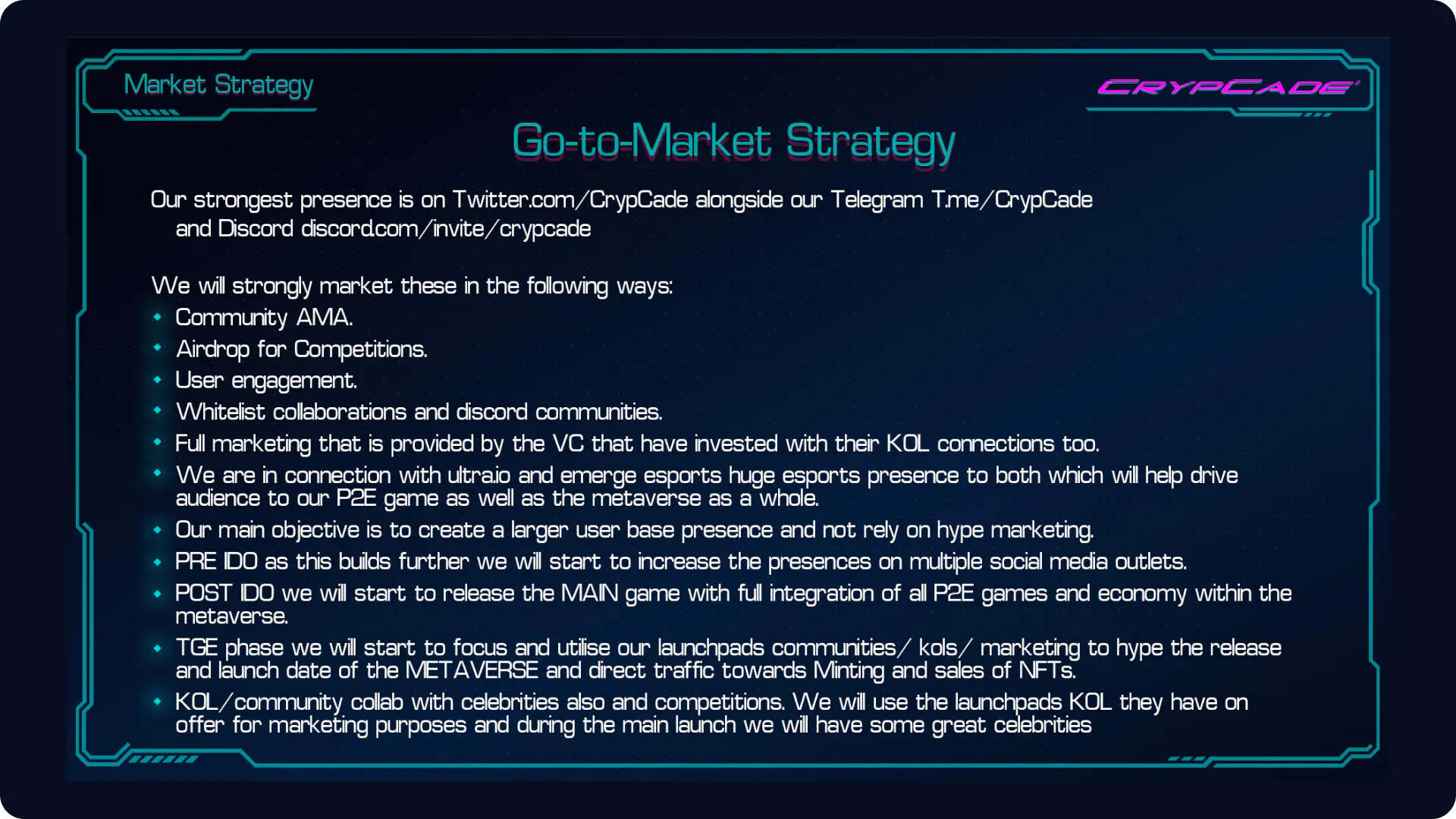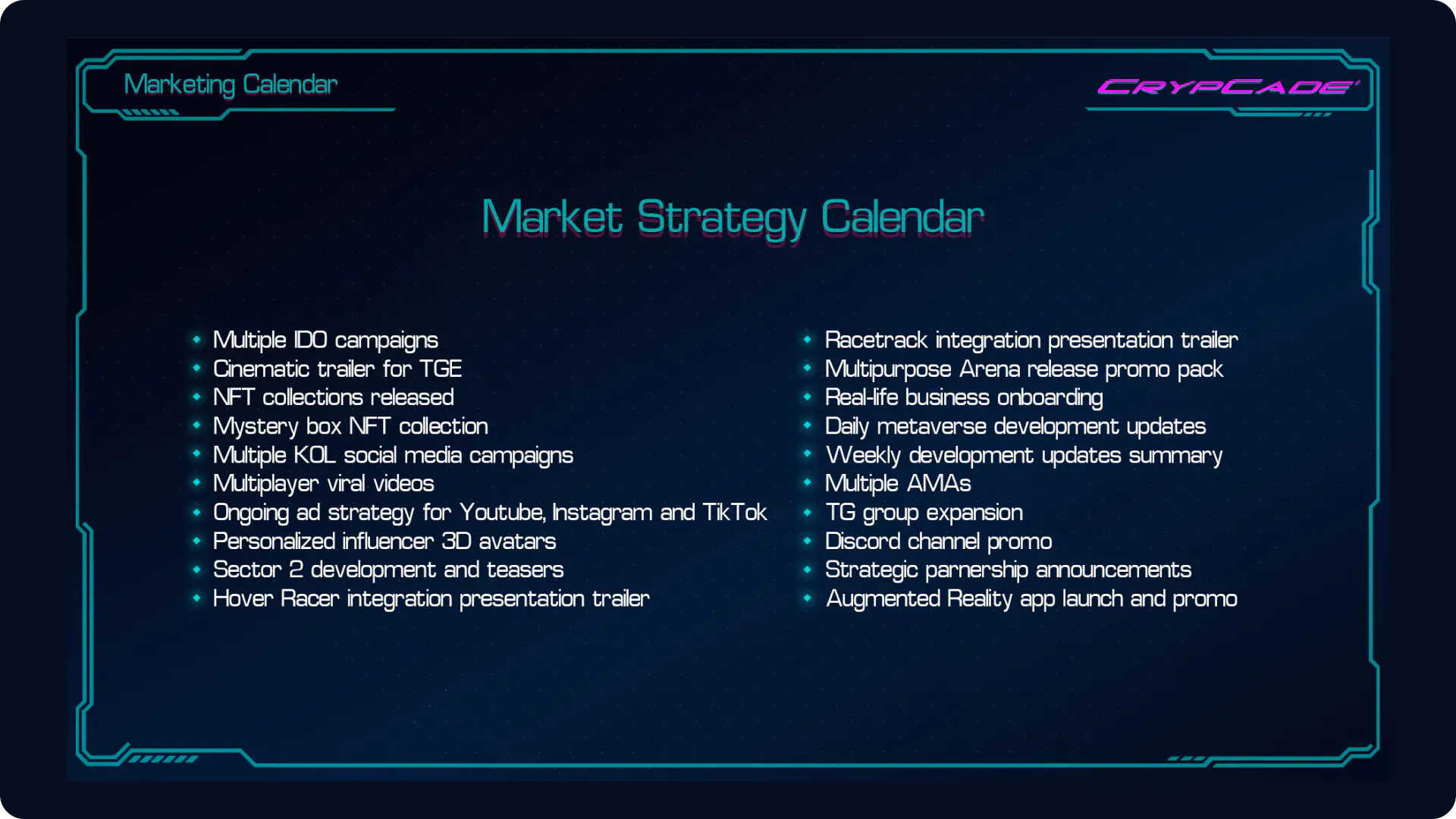 TECHNOLOGIES USED BY CRYPCADE (ICADE)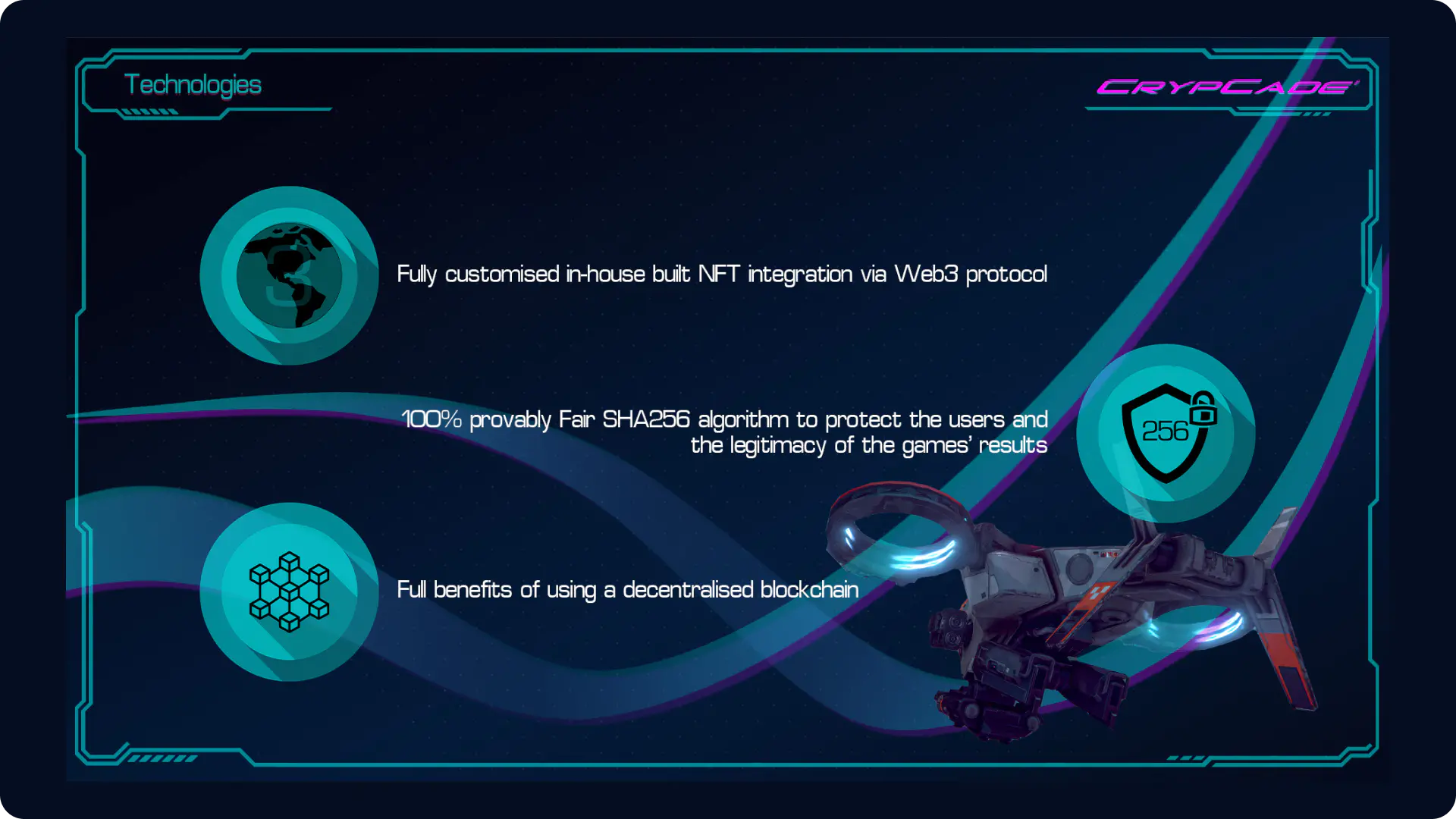 CRYPCADE (ICADE) TOKEN ECONOMY
Tokens can be frozen for dividends from the Dividend Vault while simultaneously the number of frozen tokens will count in vote-casting and voting systems.
Everything in CrypCade City can be paid for in iCADE

Lands, buildings, characters, vehicles will be sold as NFTs

Each property will have its own tax system
iCADE Swap will also be a service provided inside the metaverse, thus facilitating token swaps without having to leave the metaverse.