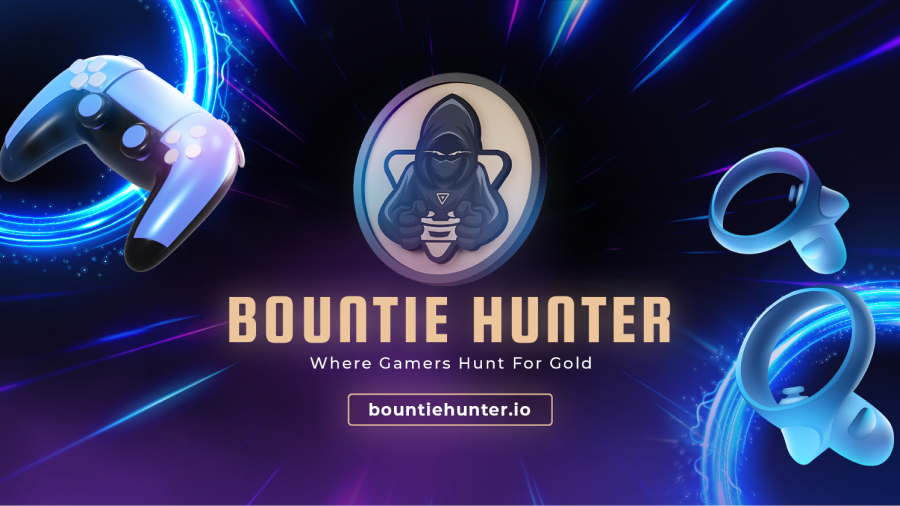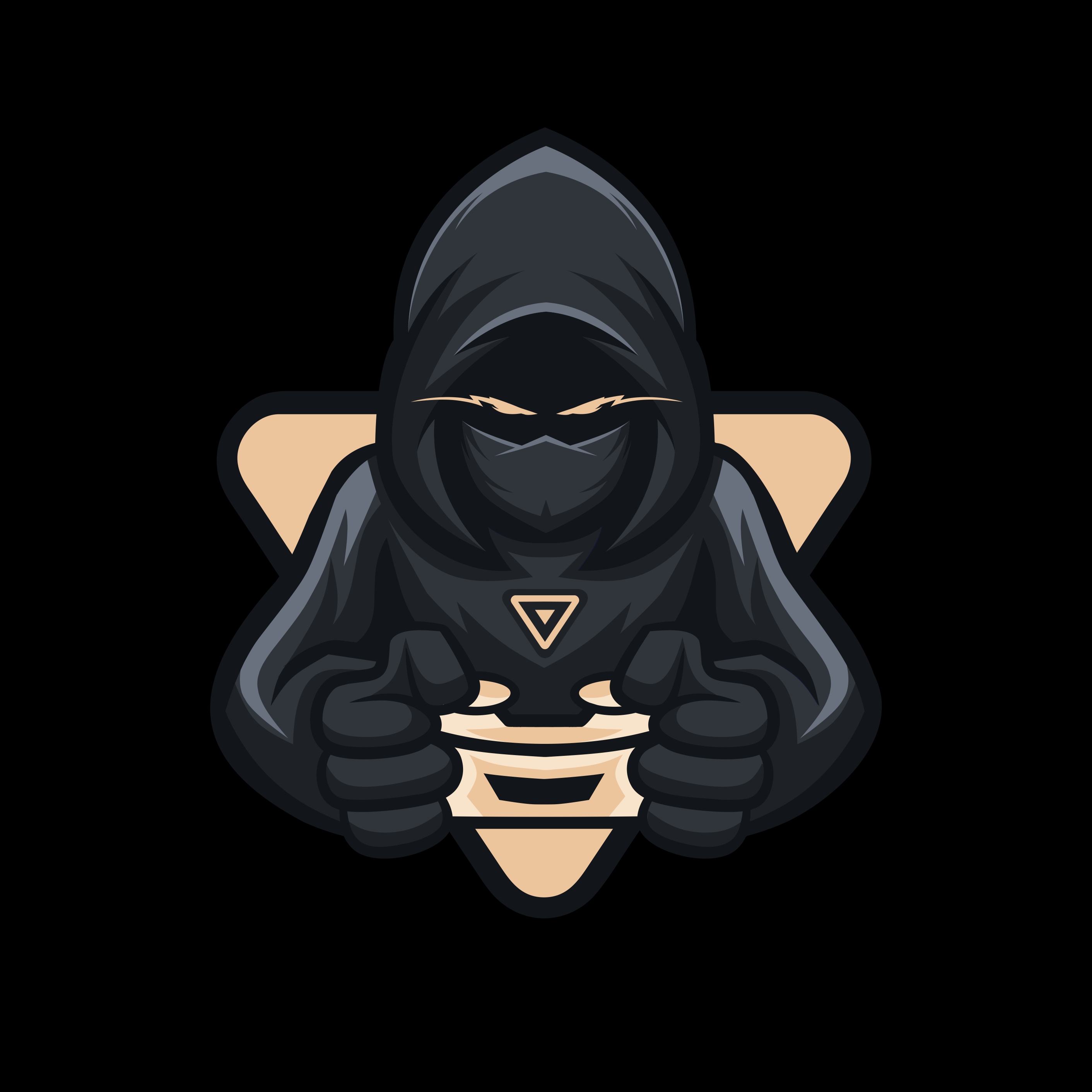 Bountie Hunter
Bountie Hunter connects millions of web 2 gamers to web 3 games.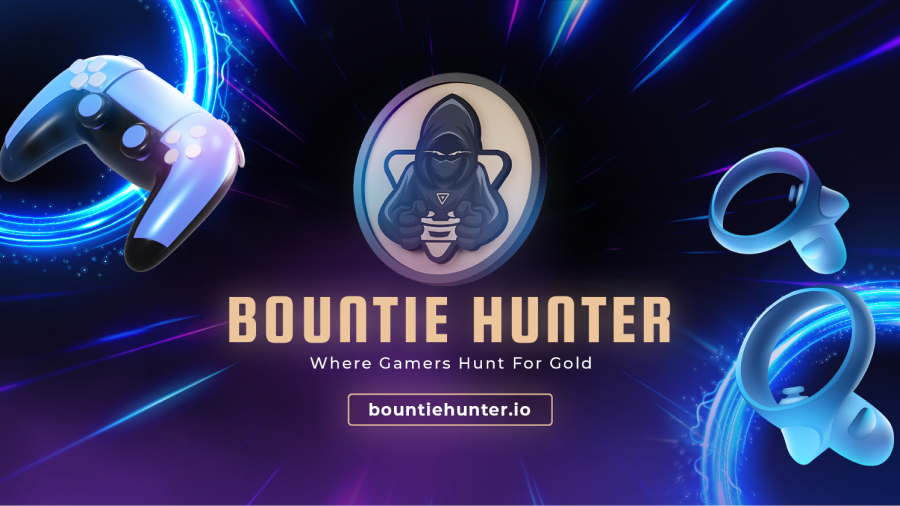 Ticker
BOUNTIE
Market cap.
$1,802
Fully Diluted Valuation
$137,415
Trading Volume 24 Hrs
$45
Circulating Supply
6,555,335
WHAT IS BOUNTIE HUNTER?
We are building a post-launchpad product that helps crypto games that have successfully raised millions to scale up to have tens or hundreds of thousands of active gamers. Gamers needs to buy and stake BOUNTIE(similar to a launchpad model), in order to get allocations to our Quests(esports tournaments, airdrops and other campaigns). They will receive attractive rewards in the form of the projects' tokens and NFTs.
WHAT MAKES BOUNTIE HUNTER UNIQUE?
As Bountie Hunter is a hybrid product between a launchpad and a esports platform, we have listed the above competitors. The closest will be Ignite Tournaments. There's a strong demand for our product offering simply from the fact that we have already generated more than $100k since we started in Dec 2021 with many more crypto gaming projects looking to take up our services to reach and acquire more web 2 gamers. This helps us to solve the supply side of the equation and because we already have 250k gamers on our platform, we can fulfill the demand side of the equation as well.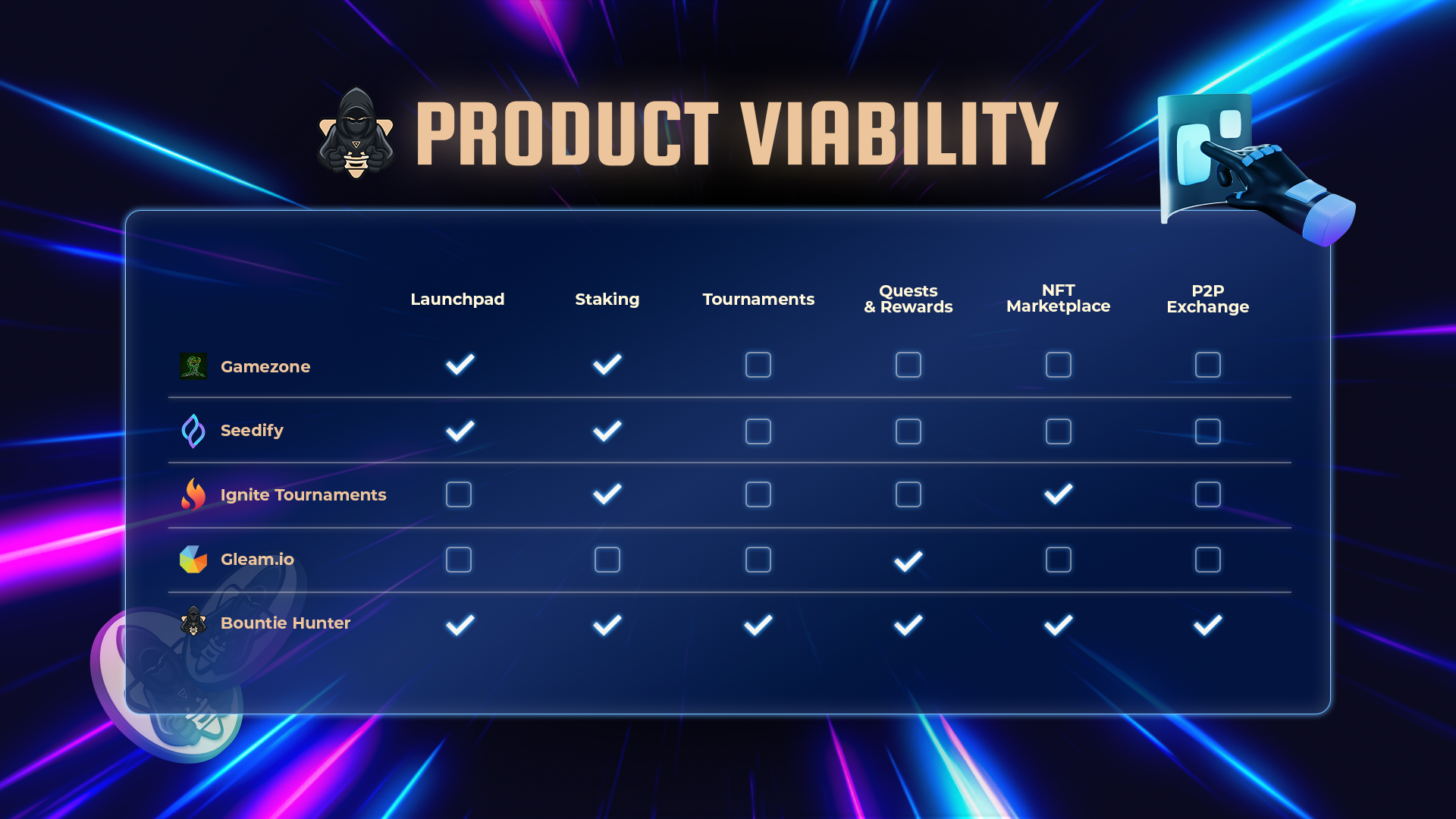 BOUNTIE HUNTER PRODUCT ROADMAP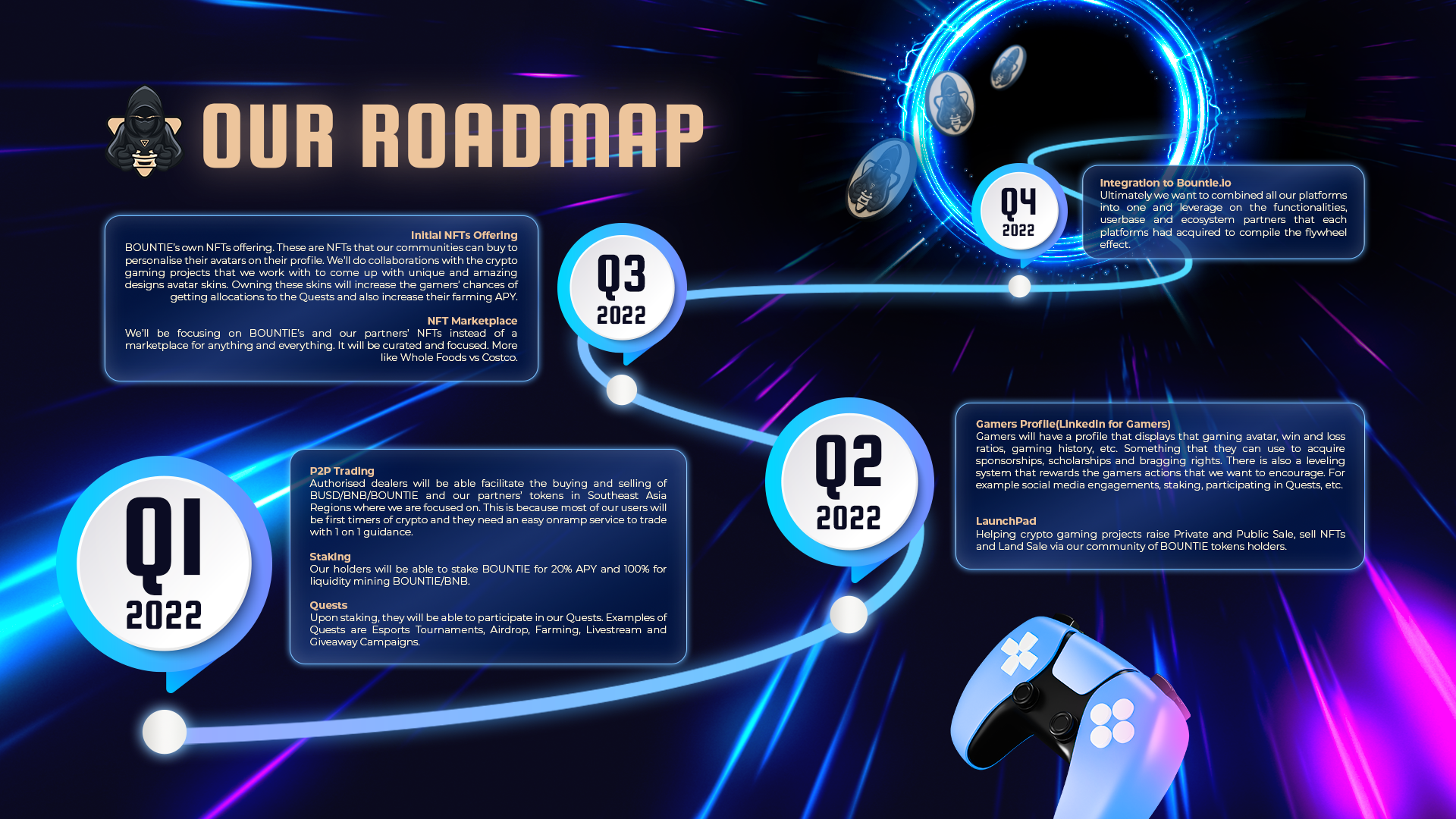 BOUNTIE HUNTER REVENUE STREAMS
Our revenue right now(March 2022) just crossed $300k since we started in Dec 2021. We do this by offering marketing services to crypto gaming partners. We help them to acquire web 2 gamers at a cost per acquisition of $5 to $15 depending on demographics. Based on the current pipeline, levels of interests and conversion rates, we will be able to bring in at least $3m to $5m in revenues just from this channel. Our current pipeline of clients are coming in from our advisors, launchpads, investors and guilds. The demand is stronger than our ability to fulfill at the moment. Thus we are scaling up our team rapidly in order to capture this demand.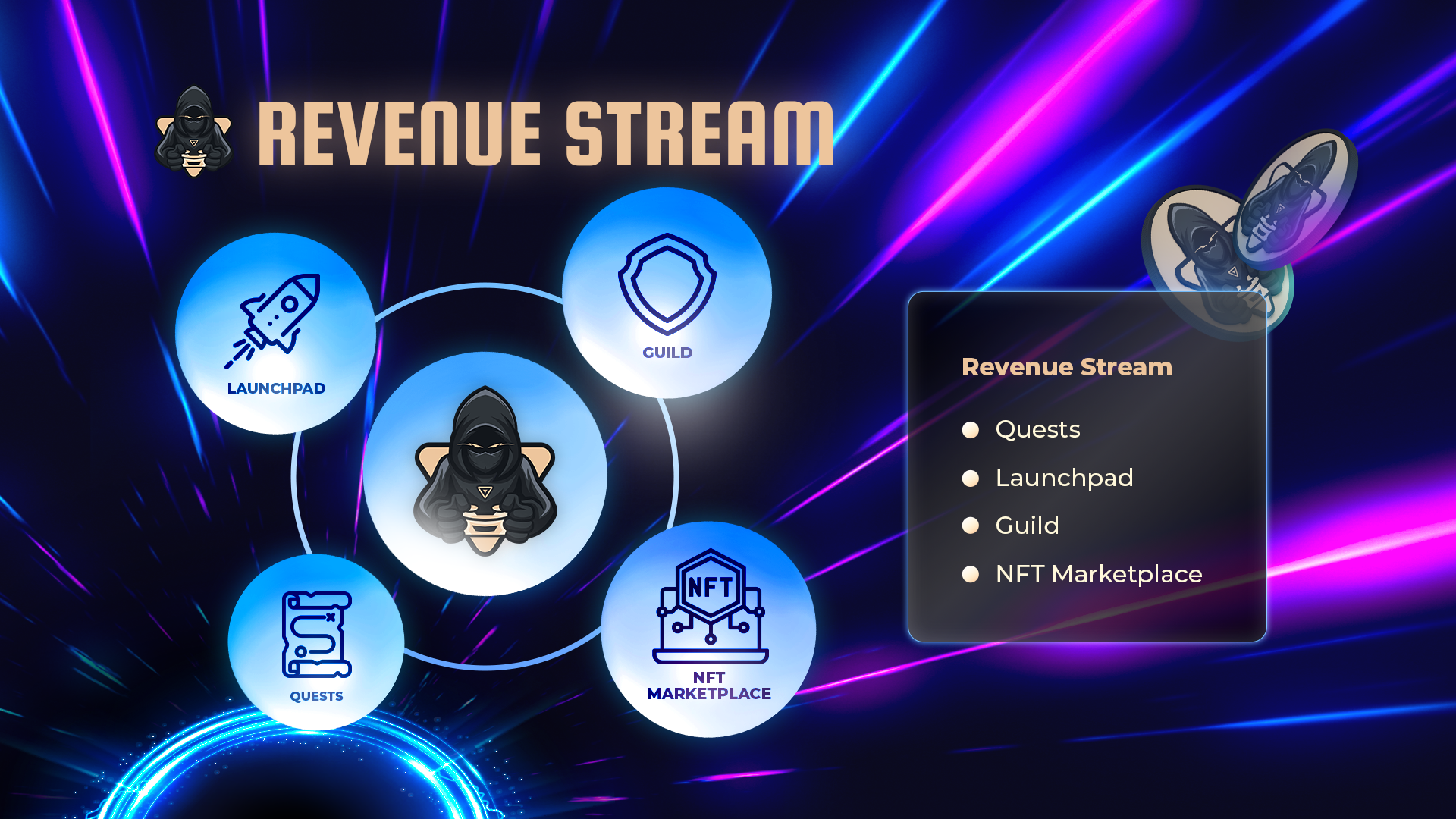 TECHNOLOGIES CREATED AND USED BY BOUNTIE HUNTER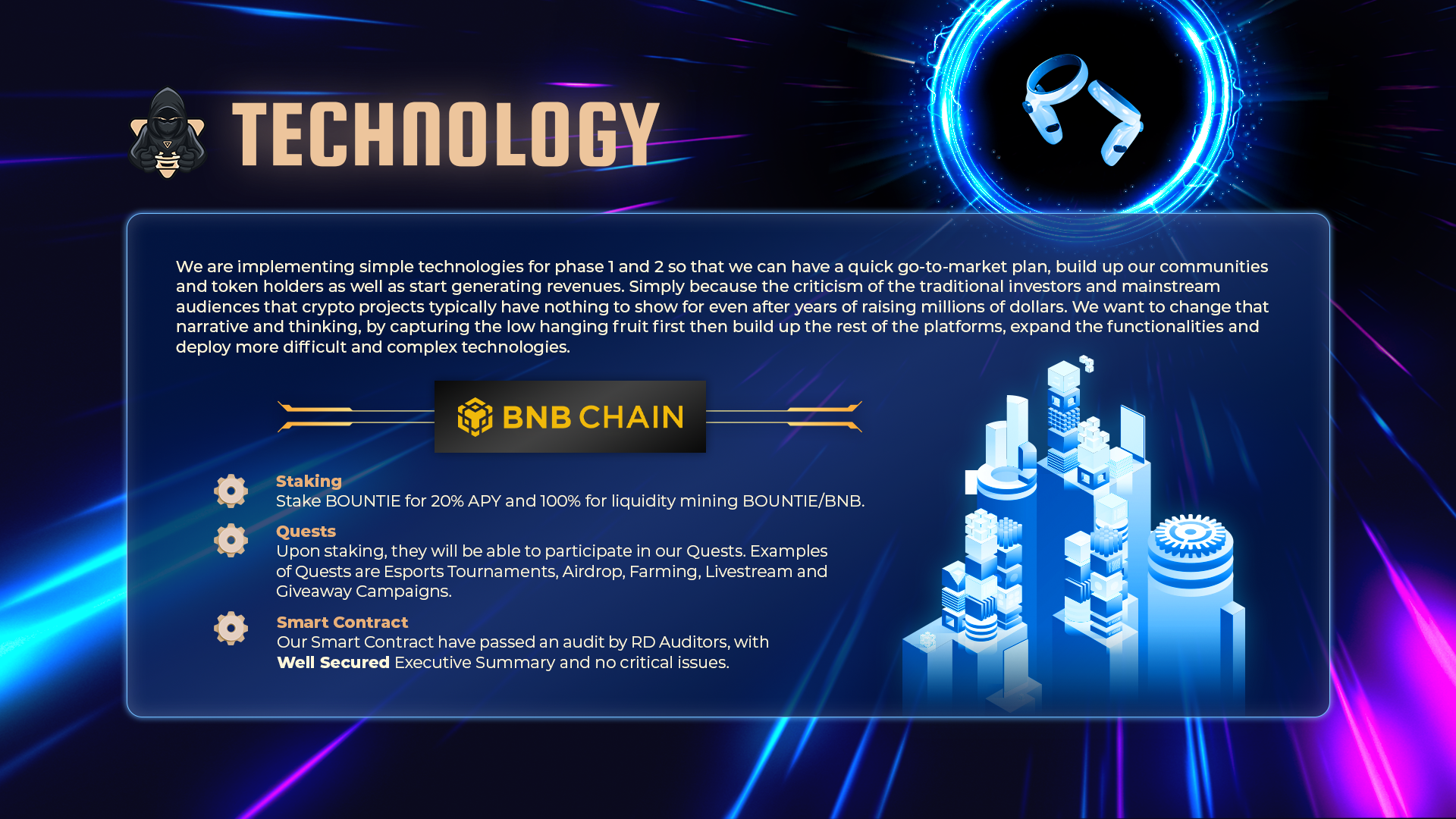 BOUNTIE HUNTER MARKETING STRATEGY
We have multiple strategies that we'll be deploying:
Educating and converting our existing 250k gamers from bountie.io via our existing marketing channels(Socials, EDMs, WhatsApp & Discord). This will be our key focus and the lowest hanging fruit. While we are continuously growing our users on bountie.io from 250k to 500k to millions, that serves as our most effective and largest top of the funnel strategy to acquire web 2 gamers.
Establishing more partnerships with launchpads, crypto games and guilds allows us to generate revenues to reinvest that into PR and marketing, as well as tapping onto their existing pools of gamers and crypto investors.
Leveraging on mainstream media for both crypto and gaming allows us to build up the one-to-many outreach as well as build up our reputation in the industry.
Our team of community managers also does direct outreach to individuals on social media that have engaged with our posts. As well as promotion of Bountie Hunter on other chatting services like WhatsApp, Telegram and Discord groups.
Working closely with KOLs with the right demographics that we want to target in order to get the largest impact and highest conversion rates from their followers to our community members and token holders.
Because of our similarity of use cases, token utility and purpose of the tokens, having our tokens launch on multiple launchpads will increase the chances of us getting more token holders.
The lack of great and trusted information about esports, gaming and crypto right now in localised language provides our project with an opportunity to be a thought leader in this vertical. We'll be creating and curating educational content for our mainstream, web 2 gamers in various Southeast Asian countries to get them crypto literate by the masses.
Most of the campaigns that we run with our crypto gaming partners will be in the form of esports campaigns, tournaments and leagues. These will be widely publicized to the mainstream gamers to attract them to participate in the play-and-earn trend. Prize pools and publicity for the gamers will be huge because of the amount of investments and marketing budget the crypto industry has to drive adoption.
BOUNTIE HUNTER TOKEN ECONOMY
Our staking contracts has penalty coded similar to Duckstarter.io and BSCPad. When the user unstake early, the tokens received from the penalty will be sent back to the staking reward wallet/pool.
When we generate revenues, we will also buy back tokens to fund the staking rewards so that we will continue to provide APY to our token stakers and liquidity pool miners.