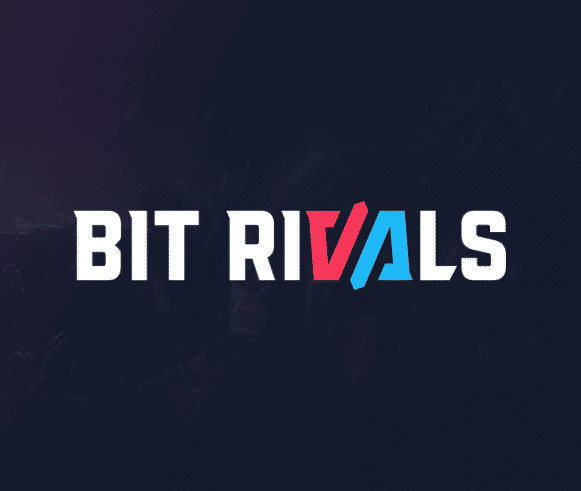 Strong holder offering ends in:
Ended
HOW DOES BIT RIVALS (RIVAL) WORK?
Most casual gamers will never make money playing video games. For AAA games, most earnings go to the top streamers and Pro Tournament winners, which leaves most players without any meaningful rewards. And if players switch games or stop playing, all their in-game purchases end up being useless, with no real-world value.
Unfortunately, Play-to-Earn games aren't much better; leaving most players with little choice in what games to play, boring gameplay and bad graphics in the games they can play, and Play-to-Earn tokens are only useful in one ecosystem or one blockchain game, which makes earning rewards feel pretty unrewarding.
But Bit Rivals is changing the game, bringing together the best of Free-to-Play and Play-to-Earn in a single platform. Using the Bit Rivals ecosystem, players of all skill levels can earn crypto and real-world rewards simply by playing their favorite AAA games.
WHAT MAKES BIT RIVALS (RIVAL) UNIQUE?

BIT RIVALS (RIVAL) ROADMAP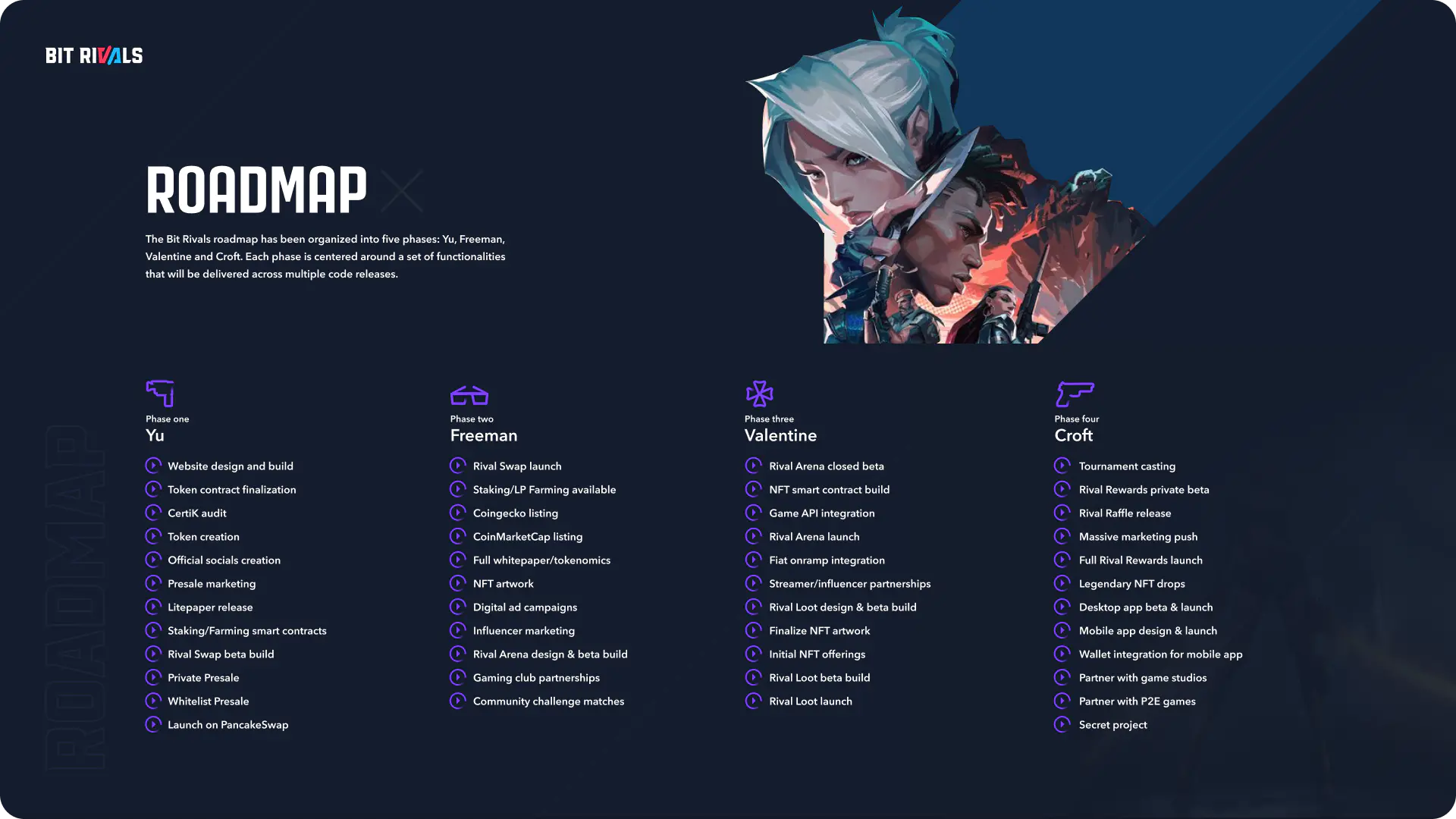 BIT RIVALS (RIVAL) REVENUE STREAMS
The team is part of two multi-million dollar hedge funds ( Five year Plan and TheDefiCollective. And are active day / swing traders in crypto, forex and stocks.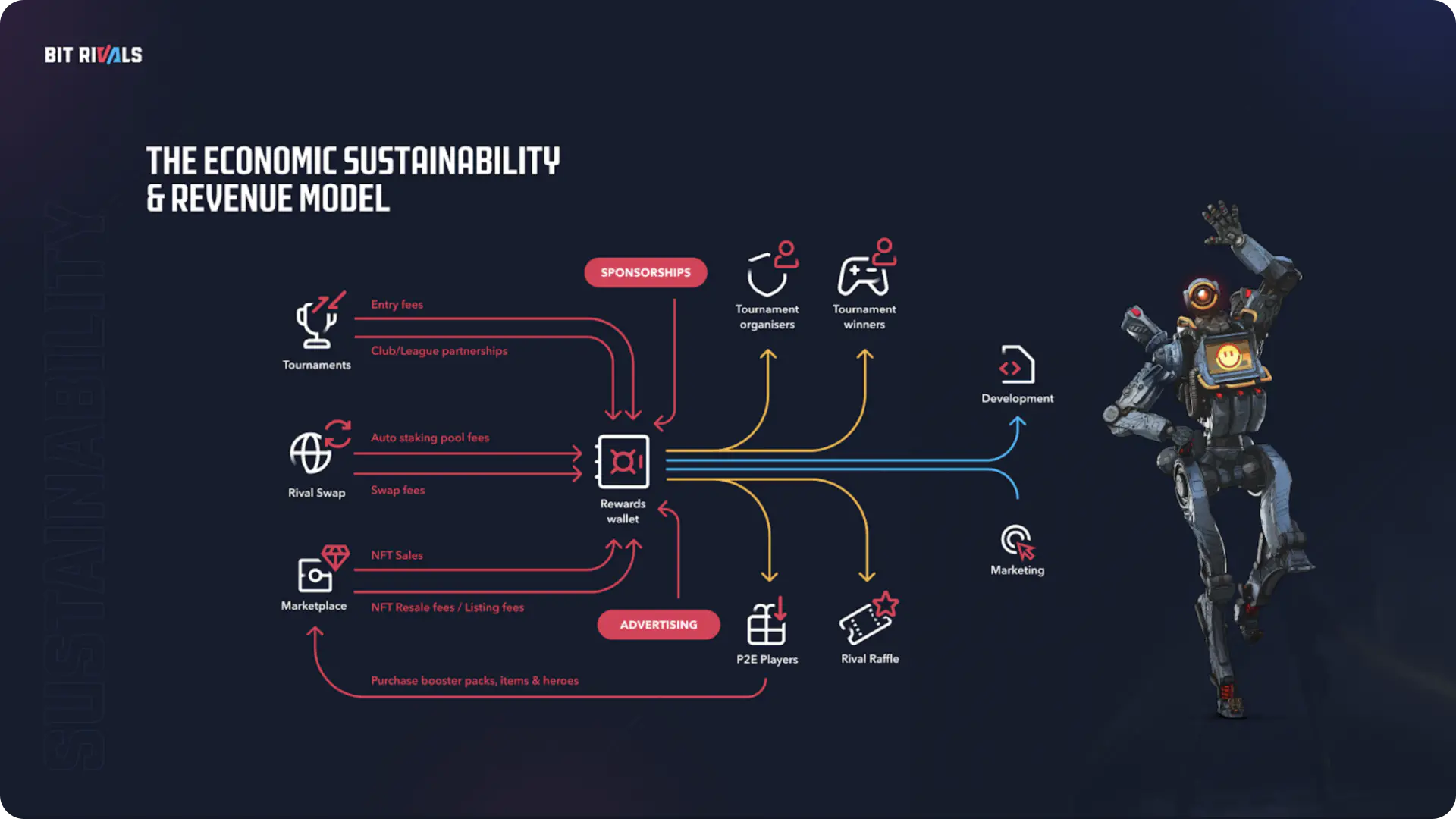 WHAT TECHNOLOGIES DOES BIT RIVALS (RIVAL) USE?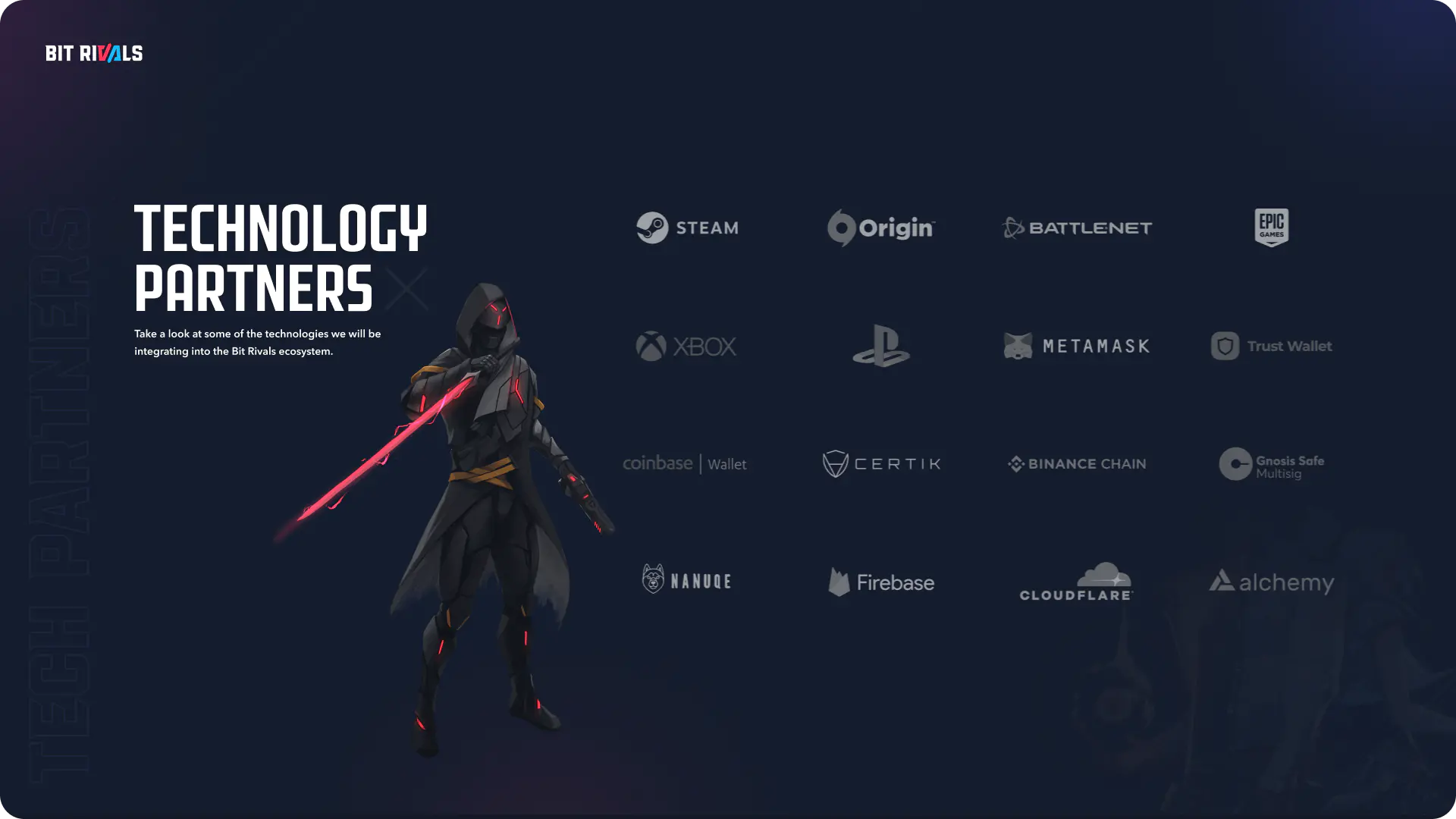 BIT RIVALS (RIVAL) MARKETING STRATEGY
The gaming industry already represents 2.5 times the revenue of the music and movie industries combined, with a global player base of almost 2 billion people. That's almost one in every four!
By 2025, analysts predict that the gaming industry will generate more than 260 billion USD in revenue, and as NFTs grow in popularity the play-to-earn games that use them will benefit from an even larger audience. Just look at Open Sea, the largest peer-to-peer global NFT marketplace, which was projected to do almost 20 billion USD in volume in 2021, an increase of more than 5,000% over the prior year. The economies of Play-to-Earn games also generate up to 5 times more income per player than traditional Pay-to-Play or Free-to-Play games.
By tapping into the player base of already popular AAA games such as PUBG, Fortnite, and Apex Legends, and combining it with the wildly successful Play-to-Earn model, Bit Rivals will become a leader in the marketplace and capture a substantial portion of the market share.
BIT RIVALS (RIVAL) PRODUCT DIVE
The Bit Rivals ecosystem is built on five unique zones that give players even more opportunities to earn crypto and win rewards with real-world value.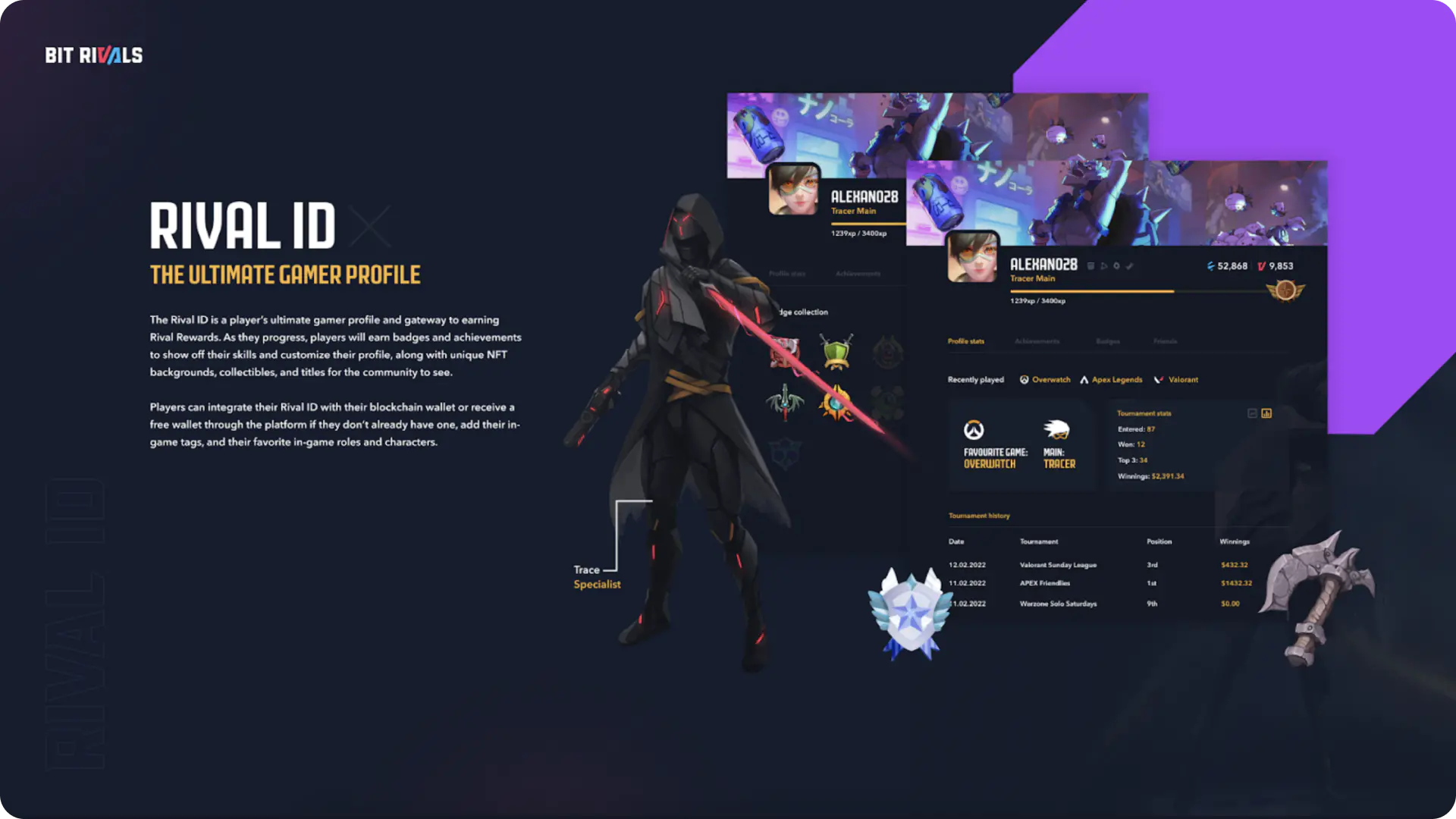 RIVAL ID
All players need to start earning on our platform is to register their unique Rival ID, which serves as their ultimate gamer profile. From there, players can hook up their Steam, Origin, or other gaming service accounts, integrate their Rival ID with their existing blockchain wallet or sign-up for a free one, and add their in-game tags, favorite roles, and most-played characters.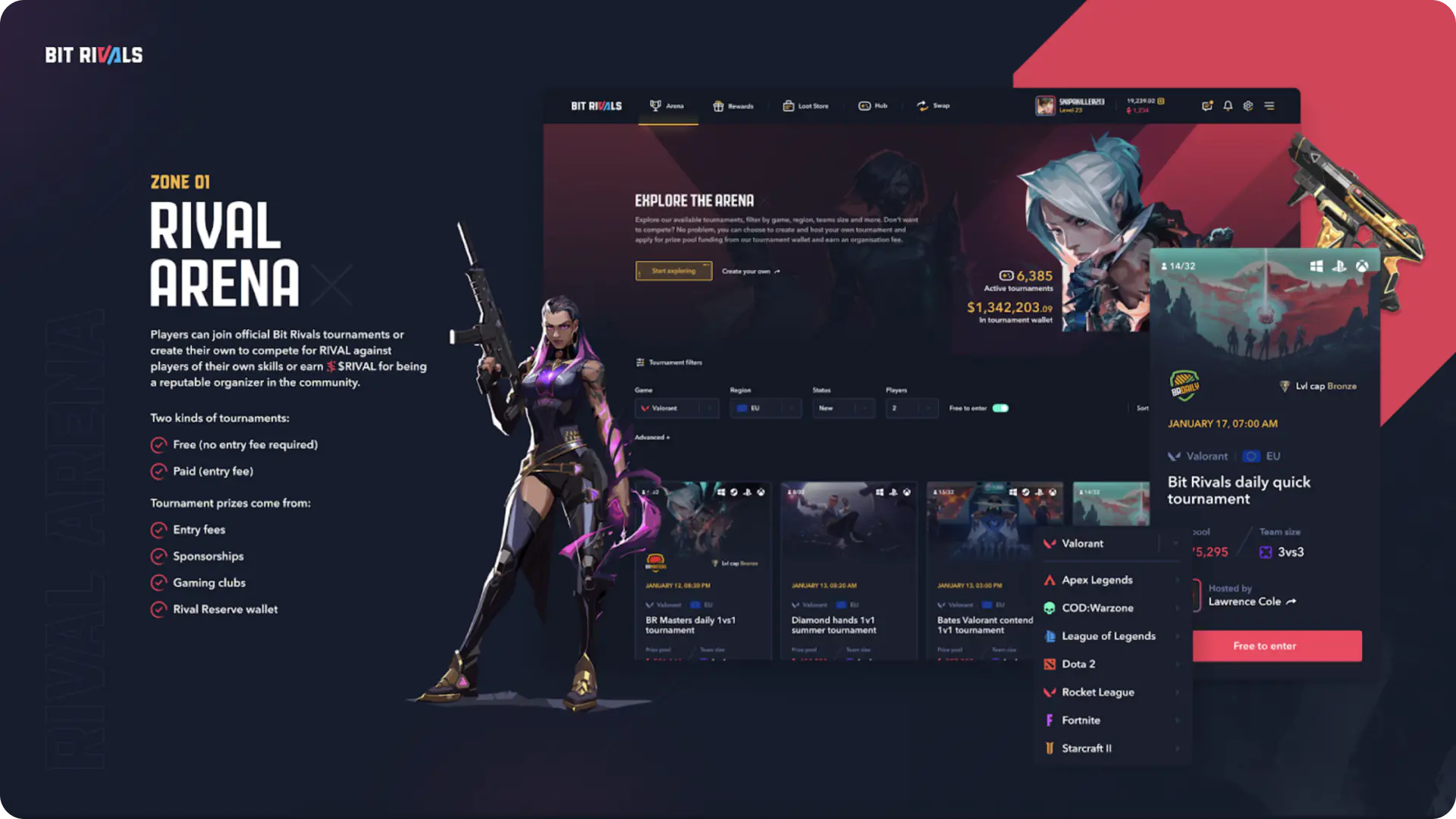 RIVAL ARENA
In the Rival Arena, players can create, host, and join their own tournaments to earn rewards and put their skills to the test against other players of their skills level. With our arena system, players can customize the region, number of players, entry fees, start date, and more, all within our easy-to-use UI. Reputable organizers even have the opportunity to apply for prize pool funding from the Rival Reserve Wallet and market their tournaments to earn even better rewards.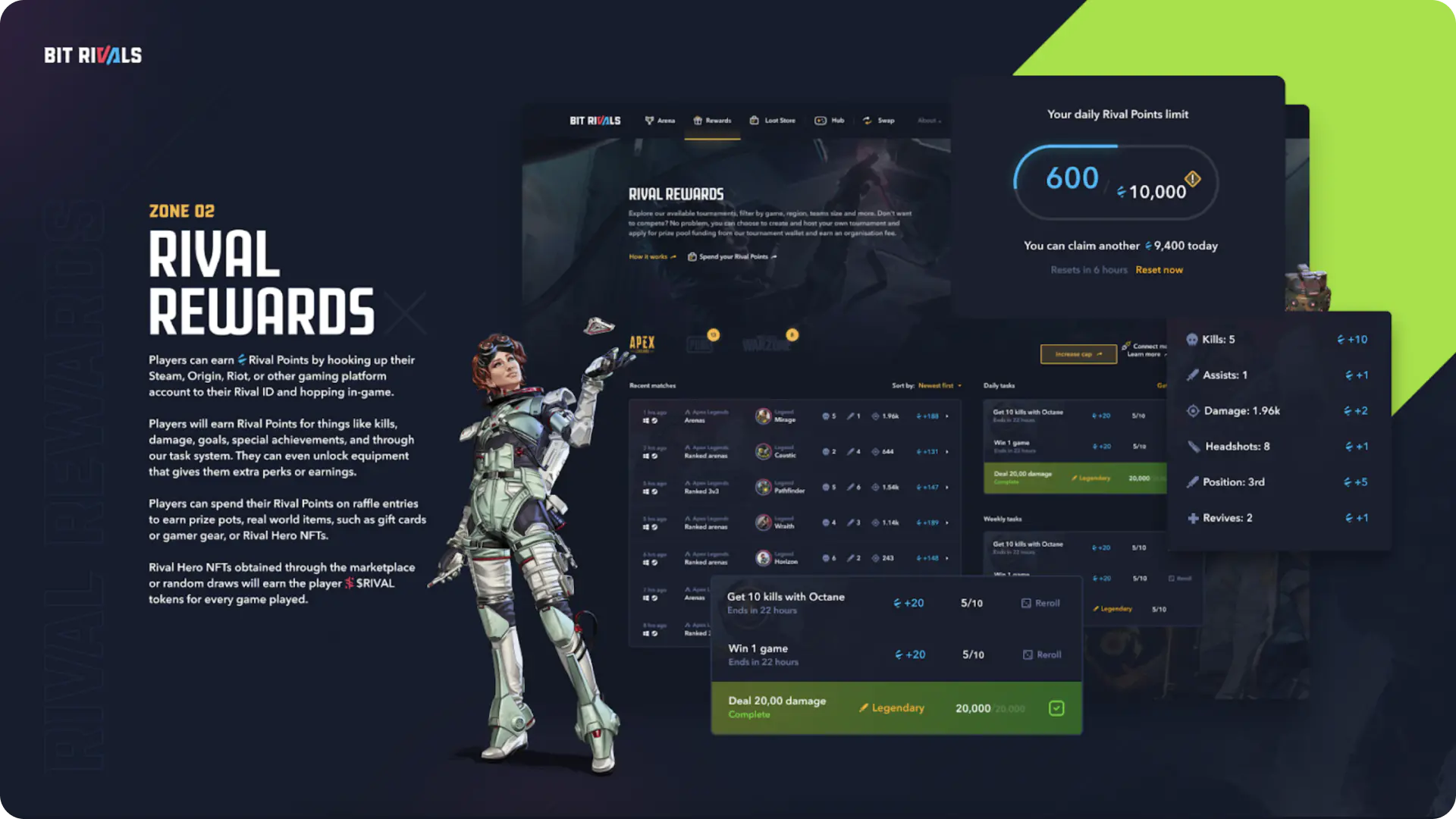 RIVAL REWARDS
Through Rival Rewards, players can earn Rival Points, $RIVAL tokens, Rival XP, and Rival Hero and Item NFTs just for playing their favorite games. Rewards are tied to in-game performance, so every takedown, every revive, and every victory helps players earn even more. Players can also upgrade their Rival Hero and Items NFTs to boost their in-game earnings and start earning rewards in $RIVAL tokens.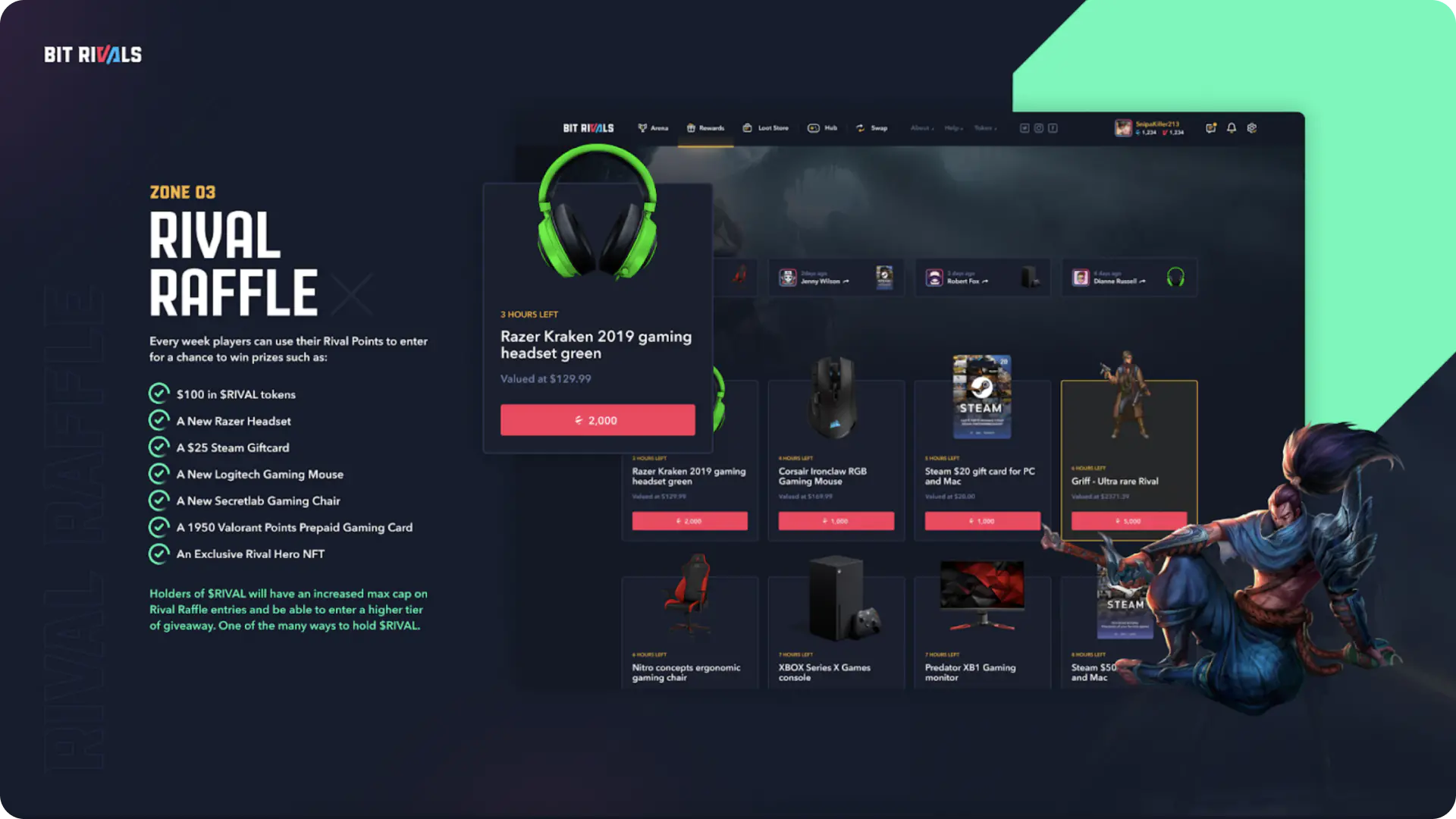 RIVAL RAFFLE
In Rival Raffle, players can spend their hard-earned Rival Points on raffle tickets to enter into our prize draws, where players can win a variety of physical and digital goods such as gaming gear, upgrade Rival Hero and Item NFTs, and exclusive merchandise. Holders of $RIVAL tokens will also have the option to enter into higher-tier giveaways and have a higher cap on the number of entries they have each week.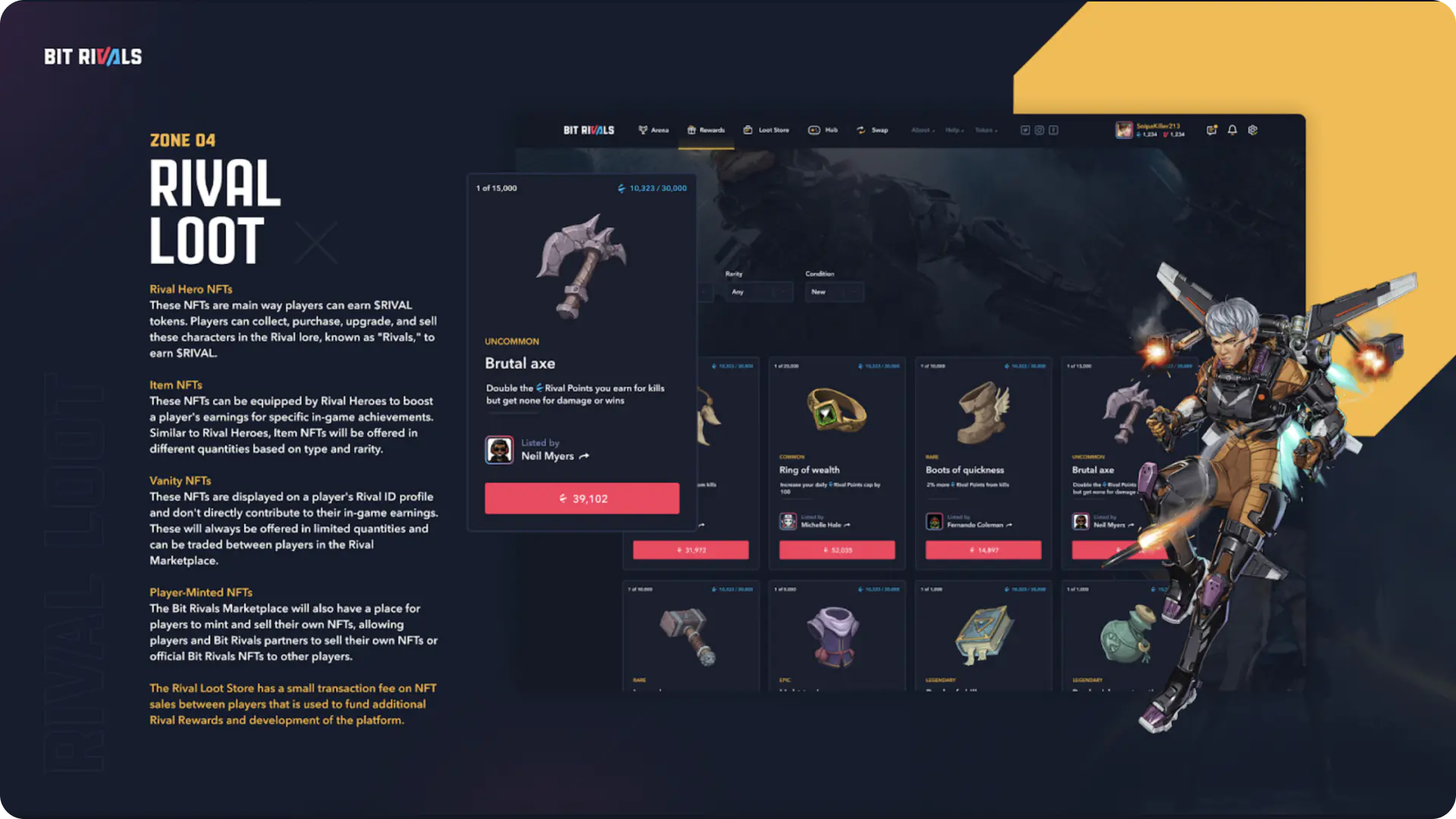 RIVAL LOOT
Rival Loot is Bit Rivals' official marketplace where players can spend their $RIVAL tokens and Rival Points to buy Rival Hero, Item, and Vanity NFTs. Players can also use the marketplace to mint and sell their own NFTs or sell their official Bit Rivals NFTs to other players to earn $RIVAL tokens.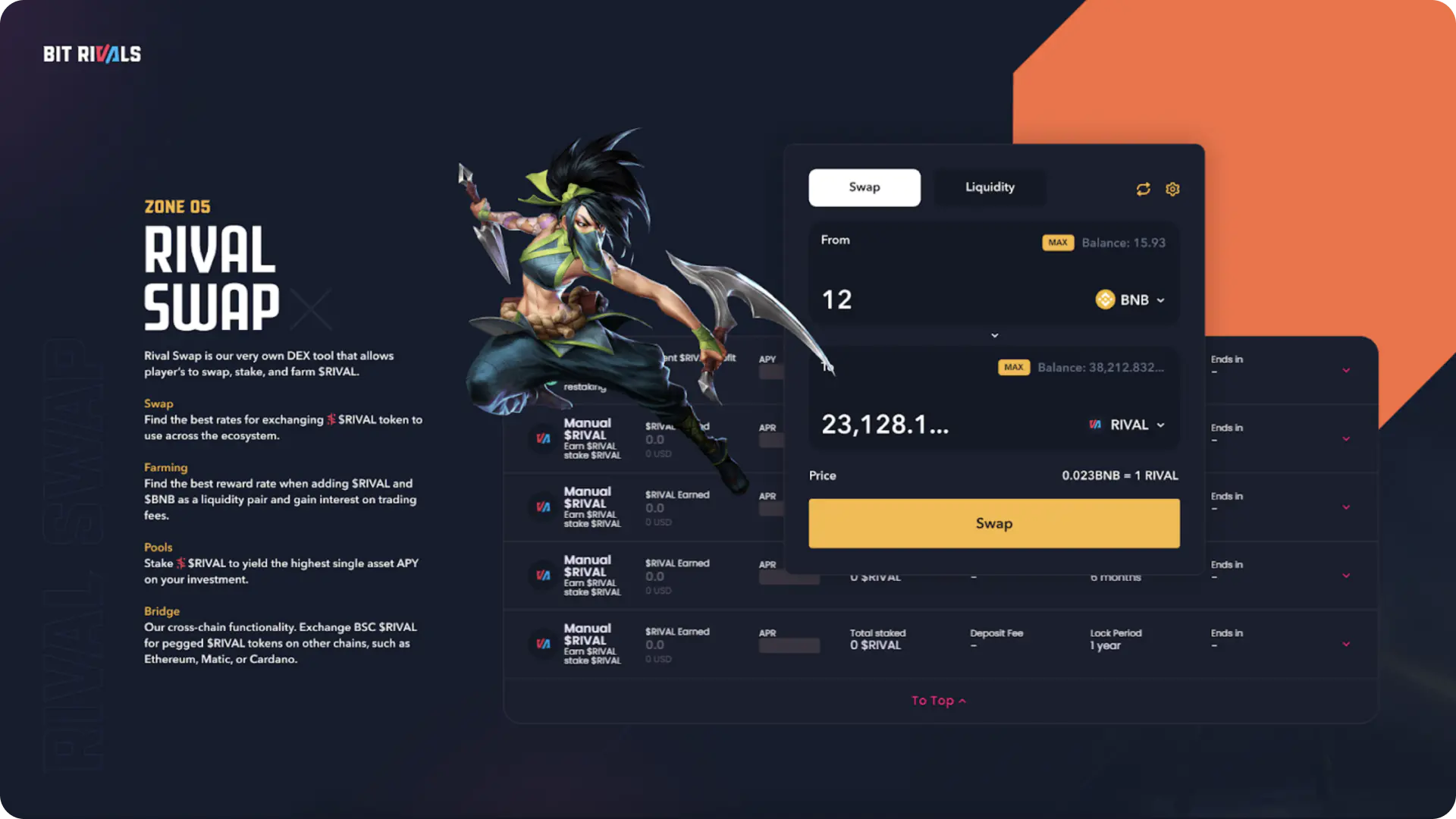 RIVAL SWAP
Rival Swap is our platform's own built-in DEX tool where players can buy, stake, and bridge their $RIVAL to generate additional passive income from their holdings. Stake $RIVAL to yield the highest single APY for investment or bridge BSC $RIVAL for pegged $RIVAL tokens on other chains like Ethereum, Matic, and Cardano.
RIVAL HEROES
When players create their Rival ID, they'll also get to choose their own Rival Hero, which has its own set of perks that help players earn more on the Bit Rivals platform. As players level-up in-game and earn rewards, they'll also be able to level up their own Rival Hero. When a hero reaches its max level, players will be able to mint an NFT version of the hero, which lets them earn $RIVAL tokens as rewards for their in-game performance or sell the hero to other players.
BIT RIVALS (RIVAL) TOKEN ECONOMY